USC mascot squabble: Trojan horse for political correctness?
In California, the raging U.S. cultural battle over Civil War icons has spread to the names of horses.
At the University of Southern California, a student group has declared the equine mascot of the school's Trojans football team to be a symbol of "white supremacy."
Why? Because the horse bears a name similar to that of a steed that belonged to Confederate Gen. Robert E. Lee.
The USC football horse is called Traveler (one L), while Lee's horse was known as Traveller (two L's).
The student group's leader voiced her disapproval of the home team horse's name earlier this week, at an on-campus rally to protest last week's violence in Charlottesville, Va.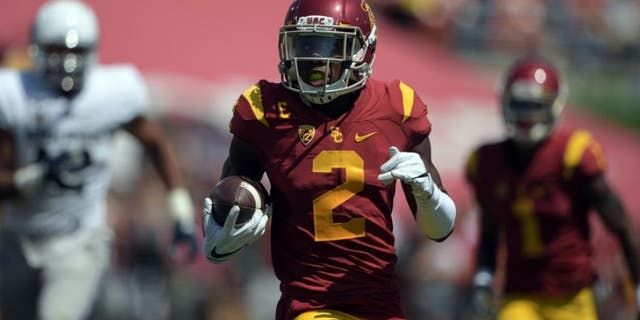 "White supremacy hits close to home," Saphia Jackson, co-director of the USC Black Student Assembly, told fellow students, in pointing out the similarity in the horses' names, student newspaper the Daily Trojan reported.
The Black Student Assembly didn't respond to a Fox News inquiry on whether the group wanted Traveler renamed or removed.
The renewed debate on public symbols of the Confederacy has sparked a discussion at USC on whether the horse mascot's name is a coincidence, or possibly a nod to its namer's sympathy to the Southern cause.
Naming the USC mascot Traveler started nearly 56 years ago, after a rider on horseback galloped across the Los Angeles Memorial Coliseum field during a Trojans home game. It was supposed to be a one-time stunt, but quickly became a school tradition, the Los Angeles Times reported.
The original rider of Traveler, Richard Saukko, died in 1992 -- without officially confirming whether the name Traveler was intended as a homage to Lee's horse.
His widow, Patricia Saukko, however, denied the accusations, calling the kerfuffle about the name a "hysteria" and a "political issue."
"The problem is this: Maybe three weeks ago it was fine," she told the L.A. Times. "So now the flavor of the day is ... we all have to be in hysteria. ... It's more of a political issue. The horse isn't political and neither am I.
"Over at USC they're nonpolitical about their horse," she added. "What if their name would be Lee? Would they want to change it? It doesn't make any difference. ... He's a wonderful horse and a great mascot."
The widow also noted that the spelling of the name is different -- and when her husband bought the horse in 1958, the name had already been picked.