US shoots down ballistic missile in test amid recent North Korean provocations
The U.S. Missile Defense Agency announced Wednesday that it successfully shot down a medium-range ballistic missile off the coast of Hawaii in a new test of its missile defense system at sea.
The USS John Paul Jones, a guided-missile destroyer successfully launched an SM-6 interceptor missile to shoot down the target.
This test comes after a previous failed test in June from the same warship.
"We are working closely with the fleet to develop this important new capability, and this was a key milestone in giving our Aegis BMD ships an enhanced capability to defeat ballistic missiles in their terminal phase," MDA Director Lt. Gen. Sam Greaves said in a statement. "We will continue developing ballistic missile defense technologies to stay ahead of the threat as it evolves."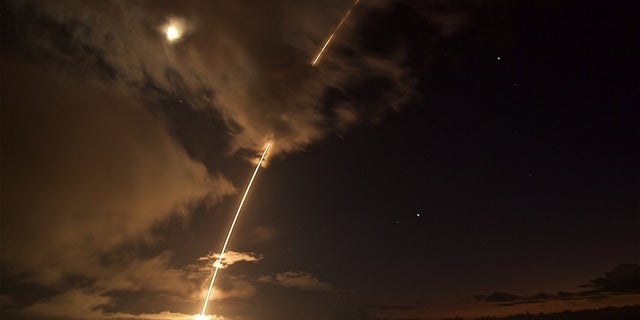 The ship detected and tracked a target missile launched from Kauai, Hawaii, "with its onboard AN/SPY-1 radar, and onboard SM-6 missiles executed the intercept," the statement read.
The test comes after North Korea fired a ballistic missile from its capital Pyongyang that flew over Japan before plunging into the northern Pacific Ocean on Tuesday, an aggressive test-flight over the territory of a close U.S. ally that sends a clear message of defiance as Washington and Seoul conduct war games nearby.
Seoul's Joint Chiefs of Staff said the missile traveled around 1,677 miles and reached a maximum height of 341 miles as it flew over the northern Japanese island of Hokkaido.
President Trump offered a surprisingly subdued response Tuesday, pulling back from his administration's recent suggestions of a dialogue with the communist country but also avoiding a repeat of his bombastic warnings earlier this month of a potential military confrontation.
Instead, Trump's terse, written statement reiterating that all U.S. options are being considered pointed to an administration cautiously searching for an effective policy, even as the North's test risked endangering Japanese civilians. Washington and its allies called an emergency U.N. Security Council meeting for later Tuesday, but looked short on new ideas for stopping the nuclear and missile advances that are increasingly putting the U.S. mainland within range.
"Threatening and destabilizing actions only increase the North Korean regime's isolation in the region and among all nations of the world," Trump said after the North's missile soared almost 1,700 miles into the Pacific Ocean, triggering alert warnings in northern Japan and shudders throughout Northeast Asia. "All options are on the table."
Fox News' Lucas Tomlinson and the Associated Press contributed to this report