US report: Ethnic cleansing of Rohingya persists in Myanmar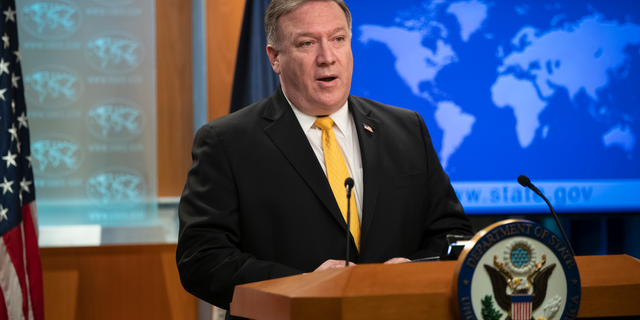 WASHINGTON – Ethnic cleansing targeting Rohingya Muslims in Myanmar has not stopped despite growing condemnation from the international community, the Trump administration said Tuesday.
In November, the United States declared that violence against the Rohingya in Myanmar's Rakhine state constituted ethnic cleansing, and the U.S. later imposed sanctions. Ambassador Sam Brownback, the U.S. envoy for global religious freedom, said the violence is continuing.
"I don't think we've seen progress there in that country," Brownback said as he unveiled the State Department's annual report on international religious freedom. The report estimates that about 680,000 people fled Myanmar to neighboring Bangladesh to escape the violence.
Rather than changing course, Brownback said, Myanmar authorities were "doubling down" by opening a new front in Kachin state. A new offensive by Myanmar's government against Kachin rebels who have fought for decades for greater autonomy has raised fears of a humanitarian crisis in Kachin mirroring the one in Rakhine state. The Kachin rebels are a largely Christian minority group.
The report covering 2017 also highlighted other U.S. concerns about religious freedom abroad:
— Some 80,000 to 120,000 political prisoners are being held in prison camps in North Korea, some for religious reasons. The report said that prisoners are held "under horrific conditions" in remote areas.
— "Hundreds of thousands" of Uighur Muslims in China have been forcibly sent to re-education centers in China.
— Saudi Arabia continues to prohibit the public practice of any religion other than Islam, and the report noted a "pattern of society prejudice and discrimination" against Shiite Muslims in the predominantly Sunni Muslim nation. Still, Brownback said he was encouraged by recent comments from Crown Prince Mohammed bin Salman about plans to expand freedoms.
— At least 50 people in Pakistan were imprisoned on charges of blasphemy last year. The report said at least 17 were given death sentences.
Secretary of State Mike Pompeo, speaking as the report was unveiled, announced that the United States will host a global summit on advancing religious freedom on July 25-26. The State Department wouldn't say which countries will be invited to attend.
"International religious freedom deserves to be a front-burner issue," Pompeo said.