US, Philippines sign pact to restore ash-covered 'forgotten' veterans cemetery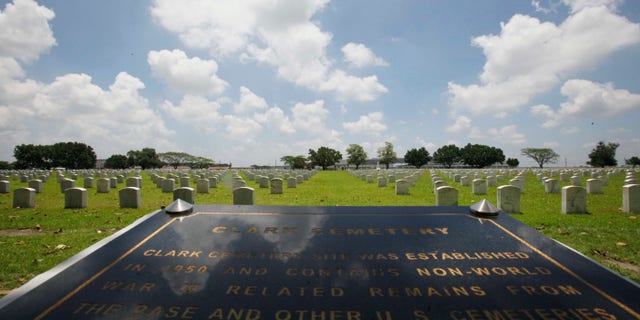 MANILA, Philippines – U.S. and Philippine officials signed an agreement Monday for Washington to restore a cemetery north of Manila where the graves of thousands of American service members and dependents have been covered in ash since Mount Pinatubo's 1991 eruption.
The accord calls for the American Battle Monuments Commission to repair and maintain the Clark Veterans Cemetery for at least 10 years. President Barack Obama had earlier signed a law to finance the Philippine-owned cemetery's upkeep.
The U.S. Air Force hastily abandoned Clark Air Base, where the cemetery is located, after Mount Pinatubo's eruption. In 1994, American veterans were shocked to find the 7-hectare (17-acre) cemetery covered in ash and weeds with half of its old steel fence looted. They cleaned up the graves but have since struggled to maintain the cemetery through volunteer work and donations.
Although the cemetery looks tidier today, it is still covered by about a foot (30 centimeters) of ash, partially burying tombstones and obscuring names, dates and epitaphs.
American veterans, who have been campaigning to prod the U.S. government to take charge of the cemetery's repair and maintenance, welcomed the agreement, which was signed by U.S. Ambassador Philip Goldberg and Arnel Casanova, president of Manila's Bases Conversion and Development Authority,
"This brings to a close a three-year campaign effort to get the U.S. cemetery to be remembered," said former Navy Capt. Dennis Wright, who saw action in Vietnam and is now a business executive in Clark, which has become a bustling industrial and recreation center.
"We used to call it the cemetery that America forgot," he said.
John Gilbert, a retired U.S. Army officer who heads a group of American veterans at Clark, said an initial U.S. government funding of $5 million would bring the cemetery at par with other beautifully landcaped burial grounds of U.S. veterans in Manila and elsewhere.
Additional U.S. funding would be needed to construct a visitors' center and maintain the property.
The cemetery holds the remains of 8,600 people, including 2,200 Americans and nearly 700 allied Philippine Scouts who took part in conflicts from the early 1900s to the resistance against brutal Japanese occupation in World War II.
Clark's dead also include military dependents and civilians who worked for the U.S. wartime government and at least 2,139 mostly unidentified soldiers whose marble tombstones are labeled "Unknown."
Once developed and possibly turned into a war memorial, the cemetery could draw in tourists, Philippine officials have said.
Before the U.S. government decided to take charge of the cemetery, Clark's elderly veterans worried about who would look after the cemetery as their ranks dwindle. An increasing number of veterans have passed away and been buried at the cemetery.