US missionary accused in Colombia of collaborating with biggest rebel movement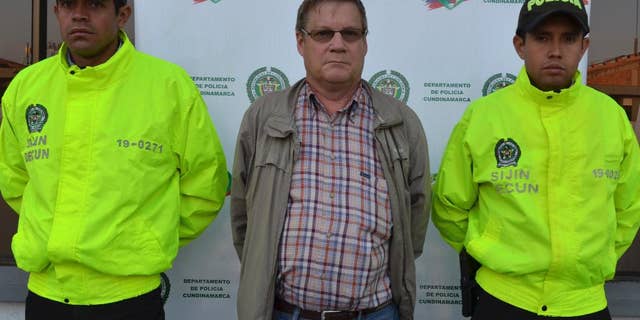 NEWYou can now listen to Fox News articles!
BOGOTA, Colombia – A court on Thursday rejected a request from prosecutors for the jailing of a U.S. missionary to face charges of collaborating with Colombia's main leftist rebel group, ruling the evidence was not strong enough to warrant detention.
Prosecutors can still pursue a trial for Russell Martin Stendal, a 59-year-old Minnesota native who has worked for decades in some of Colombia's most dangerous regions. He earlier said that he is being falsely accused.
"Somebody set a trap for me, and I walked into it," Stendal said in video posted to Facebook by one of his daughters after his surrender Wednesday night. "They are accusing me of rebellion for the missionary trips and visits we have made to conflict zones distributing Bibles and radios."
David Witt, CEO of Arizona-based Spirit of Martyrdom ministries, which funds Stendal's work and sells his books, said the preacher has routinely taken great risks for years.
"We like to describe him as the Christian Indiana Jones. He risks his life on a daily basis for the help of the Colombian people," Witt said by phone.
Regional prosecutor Carlos Manuel Silva accused Stendal of "a starring role" in a "terrorist support network whose work consisted in setting up portable radio stations that were used to spread terrorist propaganda."
Silva said 17 other members of the network also had been arrested for collaborating with the Revolutionary Armed Forces of Colombia, or FARC.
Witt said Stendal has relations with many small radio stations in zones of rebel influence that regularly carry the preacher's anti-war message.
Prosecutors also claimed Stendal offered medical assistance to wounded combatants. A police official, Victor Gomez, said the missionary had traveled to Cuba and Panama as a messenger and "facilitator" for the guerrillas.
The peasant-based FARC has been in slow-going talks with Colombia's government since November 2012 in Havana on ending a half-century-old conflict that has claimed more than 200,000 lives.
Stendal moved with his missionary parents to Colombia when he was 8, married a Colombian and retained his U.S. citizenship, Witt said.
By his own account, Stendal has been abducted by rebels five times and right-wing paramilitaries three times and was once previously jailed by the government. The longest Stendal was held was five months by rebels in 1983, Witt said.
U.S. Embassy spokeswoman Kate Bentley said the State Department had no comment, citing "privacy considerations."
___
Associated Press writer Libardo Cardona reported this story in Bogota and Frank Bajak reported from Lima, Peru.