US job openings soar to record high in July as employers ramp up demand for workers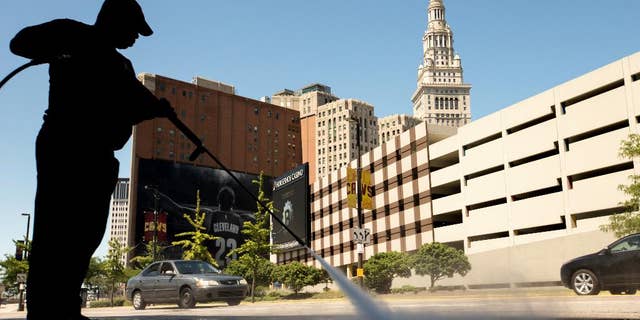 NEWYou can now listen to Fox News articles!
WASHINGTON – The number of available jobs jumped sharply in July to the highest level in 15 years, evidence that confident employers sought to step up hiring to meet greater demand for their goods and services.
Job openings soared 8 percent to 5.75 million, the most since records began in 2000, the Labor Department said Wednesday. Yet overall hiring slumped, suggesting that employers are slow to fill the jobs they have advertised.
The big jump in openings in July would typically point to greater hiring in the months ahead. Yet China's economy stumbled in August, raising fears among investors of weaker global growth and causing violent swings in the U.S. and overseas stock markets.
That may cause employers to take a cautious approach in coming months toward actually placing people in open positions.
At the same time, the sharp rise in available jobs could lead to larger paychecks. As more employers compete to fill available jobs, they may be forced to raise wages to attract candidates from the dwindling number of unemployed.
The surge in openings may also be a sign that employers are having difficulty finding workers with the skills they need. That would leave jobs open for longer periods and boost the number of positions available.
"The data ... now signal unambiguously that the labor market is unable to supply the people companies need," Ian Shepherdson, chief economist at Pantheon Macroeconomics, wrote in a note to clients. "Usually, that means wages will accelerate, though the evidence for that now is mixed."
In the past 12 months, average hourly pay has increased just 2.2 percent, up from a 2 percent pace in July. But that is below the 3.5 percent to 4 percent that is typical in a healthy economy.
The figures come after last Friday's jobs report pointed to steady, if modest, hiring. Employers added 173,000 jobs in August, the fewest in five months, but job gains in June and July were revised higher.
As a result, in the three months from May through August, job gains averaged a solid 221,000 a month, up from an average of 189,000 in the preceding three months.
The unemployment rate fell to 5.1 percent, the lowest in seven years, from 5.3 percent. Still, a broader measure that includes those looking for work, people working part-time but who would prefer full-time jobs, and Americans who have stopped looking for jobs, stood at 10.3 percent.
That suggests the job market isn't quite as healthy as the unemployment rate would indicate.
The job gains reported by the government on Friday are a net total: Jobs gained minus jobs lost. The data reported Wednesday, in the Job Openings and Labor Turnover survey, are more detailed. They calculate total hires, as well as quits and layoffs.
Wednesday's JOLTS data contain figures for July, a month behind last week's jobs report.