US ignores China 'at our peril' and lags on missile tech, Pacific commander warns
The top U.S. military commander in the Pacific warned Congress that American missile technology had fallen so far behind China due to a decades-old arms control treaty with Russia, the United States may not be able to win a future war against Beijing.
"China's intent is crystal clear. We ignore it at our peril," Adm. Harry Harris, recently nominated by President Trump to be his next ambassador to Australia told the House Armed Services Committee Wednesday.
"China's impressive military buildup could soon challenge the United States across almost every domain," Harris warned.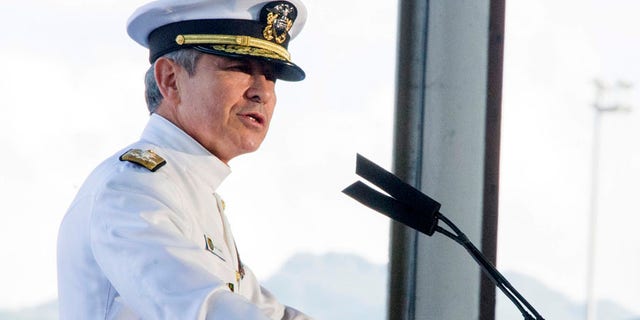 Harris said the United States is blocked from fielding ground-based intermediate range missiles because of the intermediate-range nuclear forces (INF) treaty. China is not a party to the agreement between Washington and Moscow signed in 1987 banning short and intermediate range ground-launched missiles with ranges between 310 and 620 miles and 620 to 3,420 miles. The treaty does not cover sea-launched or air-launched missiles.
Harris said better than 90 percent of China's ground-based missiles would violate the INF treaty.
China's pursuit of state-of-the-art hypersonic missiles that travel over 7,500 miles per hour through space and could potentially break through the current U.S. missile defense shield worries the Pentagon.
"China's impressive military buildup could soon challenge the United States across almost every domain."
"I think that China's hypersonic weapons development outpaces ours now, and I think we are falling behind," Harris warned.
A similar view was held by Sen. Mark Warner, D-Va., vice chairman of the Senate intelligence committee, on Tuesday during testimony by the nation's spy chiefs: "I feel we may be buying the best 20th-century military that money can buy when many of the threats in the 21st century will be in cybermisinformation, disinformation, and we need to be better prepared."
Intelligence chiefs warned this week China could turn U.S. telecommunications networks into a spy network, warning Americans not to use certain Chinese cellphones made by Huawei and ZTE. They also raised alarm bells about academics and Chinese students sent to the U.S. to gather secrets for the Chinese government.
Admiral Harris, who oversees 375,000 military personnel and is responsible for threats to the U.S. across 100 million square miles - half of the earth's surface – is known as a China hawk. Last week, President Trump nominated him to be ambassador to Australia.
Harris also weighed in on the other major threat to the United States in the Pacific.
He warned lawmakers not to be fooled by North Korea's recent charm offensive during the Winter Olympics. Harris said Kim Jung-Un ultimately wants "reunification [with South Korea] under a single Communist system," what his grandfather and father failed to do.
Harris said he rejected the notion that North Korea's nuclear ambitions were solely about regime survival, but instead intended to "blackmail" South Korea and other countries in the region, including the United States.
Should war break out on the Korean Peninsula, Harris said the number of people requiring evacuation would be "staggering." 200,000 American civilians would have to be evacuated from South Korea. 1 million Chinese. 60,000 Japanese would all require immediate evacuation.
"The Republic of Korea and Japan have been living under the shadow of [North Korea]'s threats for years, and now that shadow looms over the American homeland," said Harris.
He and others on the House Armed Services Committee warned about being lulled into complacency by North Korea's presence at the Olympics under a unified Korean flag. Vice President Pence today, just back from South Korea, explained how he gave Kim Jong Un's sister the cold shoulder.
"I didn't avoid the dictator's sister, but I did ignore her. I didn't believe it was proper for the USA to give her any attention in that forum," said Pence.
Harris also told lawmakers he was concerned about the growing threat from Russia and China in outer space.
"We've been led astray by viewing space as some kind of a fuzzy panda bear thing," said Harris. "I think the Chinese … the Russians and others, they view space as the ultimate high ground. They are preparing for battle in space."
"ZTE is proud of the innovation and security of our products in the US market. As a publicly traded company, we are committed to adhering to all applicable laws and regulations of the United States, work with carriers to pass strict testing protocols, and adhere to the highest business standards," the company told Fox News. "Our mobile phones and other devices incorporate US-made chipsets, US-made operating systems and other components. ZTE takes cybersecurity and privacy seriously."