US envoy to hold 1st meeting with Indian opposition leader accused over anti-Muslim riots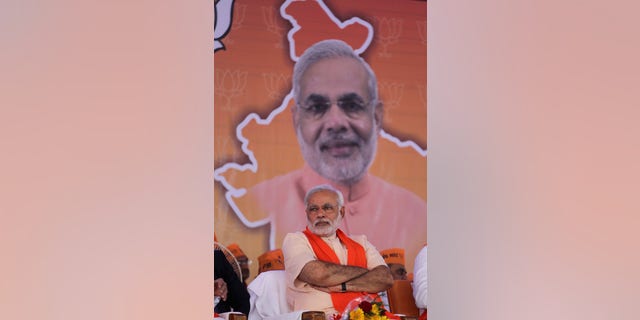 NEWYou can now listen to Fox News articles!
WASHINGTON – The U.S. ambassador will meet with Indian nationalist politician and prime ministerial candidate Narendra Modi for the first time since he was refused a U.S. visa over alleged complicity in deadly anti-Muslim riots in 2002.
State Department spokeswoman Jen Psaki said Tuesday the upcoming meeting between Ambassador to India, Nancy Powell, and Modi did not mark a change of policy. But it appeared to reflect a shift by Washington, months ahead of elections in which Modi's Hindu nationalist party is well-placed to eclipse the scandal-plagued Congress Party.
Modi was denied a U.S. visa in 2005 for failing to stop the religious riots in the western state of Gujarat where he's served as the top elected official since 2001. More than 1,000 people died in the violence, mostly Muslims. Modi has denied any wrongdoing.
Psaki described the planned meeting with Modi as part of a broad U.S. outreach to Indian political and business leaders. She did not specify when or where the meeting will take place.
The Press Trust of India news agency reported that Powell is likely to be meeting with Modi in Gujarat this week.
The State Department said that while U.S. ambassadors have not met with Modi since he became chief minister of Gujarat, lower level U.S. diplomats have.
The current U.S. consul general based in Mumbai, Peter Haas, joined a U.S. business delegation that traveled to Gujarat and met with Modi in January 2013.
Modi is the prime ministerial candidate for the main opposition Bharatiya Janata Party. He is credited with turning his state into an industrial haven, but critics question whether he can be a truly secular leader in a country with many cultures.
Modi was never charged with a crime over the 2002 violence, but critics say he did little to stop the three months of rioting.
Psaki said there has been no change in the long-standing U.S. visa policy, and declined to speak to the specifics of Modi's case.