US economy posts solid 2.3 percent growth rate in Q2, helped by strong consumer spending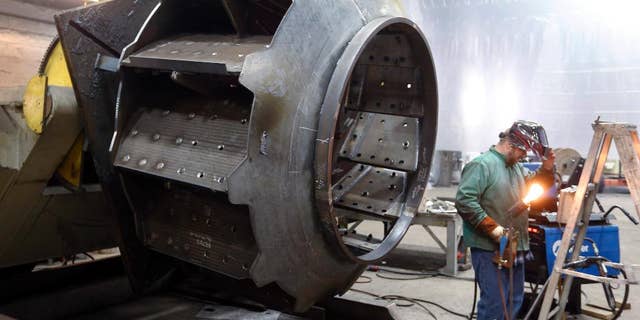 NEWYou can now listen to Fox News articles!
WASHINGTON – After a harsh winter, the U.S. economy posted a solid rebound in the April-June quarter, led by a surge in consumer spending and a recovery in foreign trade.
The Commerce Department said Thursday that the gross domestic product, the economy's total output of goods and services, expanded at a 2.3 percent annual rate in the second quarter. Moreover, the economy didn't actually contract in the first quarter. The government now says GDP grew 0.6 percent in the first three months of the year instead of shrinking at a 0.2 percent pace.
The healthy spring rebound reflected a big jump in consumer spending and a swing in trade from a significant drag to a small positive for growth.
Economists are looking for growth to strengthen more in the second half of this year to around 3 percent as consumer spending is bolstered by sizable employment gains.
The signs of a strengthening job market and expectations of faster growth ahead help explain why the Federal Reserve appears on track to start raising interest rates this year. On Wednesday, the Fed ended its latest policy meeting by keeping a key rate at a record low near zero, where it's remained since 2008.
The Fed said it still needs to see further gains in the job market and feel reasonably confident that low inflation will move back to its 2 percent target rate.
Many economists think the first rate hike will occur in September. Others think it may take the Fed until the end of the year to conclude that the time is right to increase rates for the first time in nearly a decade.