US cathedral may become museum to the slave trade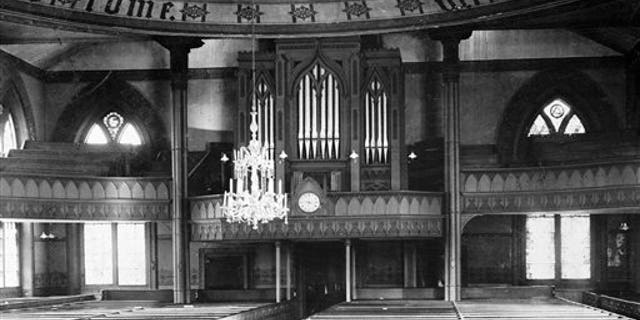 PROVIDENCE, R.I. – A plan to open what would be the nation's only museum centered on the trans-Atlantic slave trade would focus on the Episcopal Church's role in its history and the sometimes-buried legacy of slavery in northern states like Rhode Island.
The museum at the shuttered Cathedral of St. John, a church where slaves once worshipped, would explore how the church benefited from the trade and helped bring it to an end, said Bishop Nicholas Knisely of the Diocese of Rhode Island.
"Our story's mixed," he said. "We haven't talked in the country about the role of religion and religious voices in abolition and the slave trade."
To make it happen, the diocese is working with the Tracing Center, a group set up by descendants of what was once the nation's most prolific slave-trading family, and Brown University, which in recent years has worked to come to grips with its own connection to slavery.
The Rev. Canon Linda L. Grenz calls it a "teaching museum" and says it would be part of a larger project to show how people can use painful history to help overcome differences and be honest with one another.
Diocesan officials emphasize the plan is still in the early stages. They don't yet have a way to pay for converting the 200-year-old building, and they're not sure what they want it to look like.
A Brown report issued in 2006 found that about 60 percent of all slave-trading voyages launched from North America came from Rhode Island. More than 1,000 slave-trading voyages were launched from Rhode Island, the report says, and 80 of those came from one family, the DeWolfs of Bristol.
James DeWolf Perry, executive director of the Massachusetts-based Tracing Center, which works to promote greater awareness of the legacy of slavery, is a descendent who is working with the diocese. His great-grandfather was bishop of Rhode Island, chose St. John's as the diocese's cathedral and served as the denomination's presiding bishop -- its leader in the United States.
"What's dropped out of our public memory, largely as a result of the Civil War, is that the North had a great deal of slavery," he said. "We like to talk about as if most Northerners were anti-slavery and abolitionists."
In fact, the North benefited economically from slavery, and the Episcopal Church "institutionally was deeply complicit in slavery, benefited from it," he said.
Several museums in the U.S. address slavery, but hardly any are specifically devoted to it, Perry said. One, the Whitney Plantation, is opening in Louisiana next month but focuses on plantation history and slavery in the South. Elsewhere, the International Slavery Museum in Liverpool, England, opened in 2007.
Anthony Bogues, director of the Center for the Study of Slavery and Justice at Brown, was part of the committee that reported on how the university benefited from slavery: Some buildings at the Ivy League school were built by slaves, and some early Brown benefactors were slave owners, for example.
Bogues, who hopes to be integrally involved in the project, said it could be a national model for dealing with the legacies of slavery.
"We have not yet, I think, had a full national conversation on race and racism," he said.Most Americans do not understand how deeply involved the colonies and early United States were in the trans-Atlantic slave trade, said David Blight, director of the Gilder Lehrman Center for the Study of Slavery, Resistance, and Abolition at Yale University.
Blight, who has advised some similar projects including the National Underground Railroad Freedom Center in Cincinnati, encouraged the organizers to assemble a strong team of historical advisers.
"It's all about how you present a very difficult history, a disorienting history, to the broadest possible public including young people. That isn't easy to do, but it's a tremendous and wonderful challenge," he said. "Museums rarely can reconcile a society, but they surely can present good history, a lesson that can be learned."
Knisely said despite the challenges, he can feel God's presence as the vision is discussed and people come forward to help.
"God's going to give us what we need to make it happen," he said.