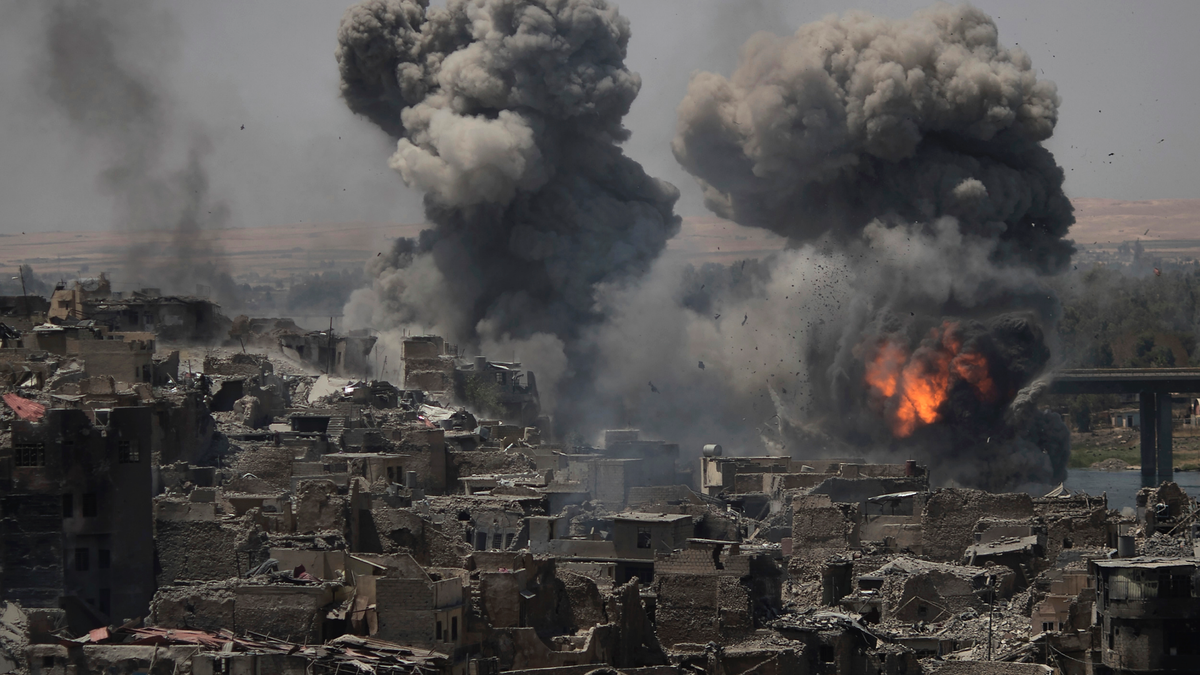 WASHINGTON – The U.S.-led coalition fighting the Islamic State group may increase airstrikes and overhead surveillance support for the fight to retake Raqqa, Syria, now that the militants have been largely defeated in Mosul, Iraq, the top U.S. military commander in Iraq said Tuesday.
Lt. Gen. Stephen Townsend told Pentagon reporters he doesn't see a significant expansion of the U.S. and coalition effort in Raqqa. But he said he thinks there will probably be "a greater level of resourcing," including intelligence and reconnaissance assets as well as more strikes.
"It will become more of a priority now that Mosul is concluded," said Townsend.
The added support would aid the U.S.-backed Syrian forces who have encircled Raqqa, the Islamic State's self-proclaimed capital, breaching the fortified defenses and moving closer to the heart of the city. Officials are predicting a long, tough battle, estimating that more than 2,000 militants are holed up with their families and tens of thousands of civilians in the city's center.
Townsend, however, cautioned that the battle in Iraq is not over. He said he believes Iraqi troops still need time to oust any remaining IS fighters from Mosul. And once that is done, he said, they will probably take a break to reset and rest before launching their fight against IS in Tal Afar and other remaining insurgent strongholds in western Iraq.
Iraqi Prime Minister Haider al-Abadi on Monday declared "total victory" over the Islamic State group in Mosul, as his force claimed full control of the country's second-largest city three years after it was seized by IS extremists intent on building a global caliphate.
The battle to retake the city raged for nine months, killing thousands and displacing nearly 900,000 from their homes.
Despite the Iraqi victory, Townsend said there could be as many as a couple hundred IS members still in the city, and said it will take weeks to clear out the remaining pockets of resistance and hidden explosives. He said a group of IS militants offered to surrender Tuesday, but commanders later determined it was probably just a ploy to try to kill Iraqi forces.
"There's a lot of mopping up and back-clearing to be done," Townsend said. "There are holdouts and hideouts that have to be found and run to ground."
Looking ahead, he said the Iraqis already have a plan in the works to retake Tal Afar, and it will begin to unfold in the coming weeks. The U.S., he said, will probably shift forces to assist the Iraqis in Nineveh and Anbar provinces, so it's unlikely there will be any reduction in American troops on the ground in Iraq.
In other comments, Townsend said he doesn't know if Abu Bakr al-Baghdadi, the leader of the Islamic State group, is dead or alive. There have been conflicting reports, including a claim by Moscow in late May that there was a "high probability" he was killed in a Russian airstrike in the southern outskirts of Raqqa.
"I suppose it probably doesn't really matter. If no one knows if he's alive or dead, someone is guiding ISIS, the organization," Townsend added. "And what we have seen with all these paramount leaders is you take them out, and someone else steps up."