UPS plane crash probe focuses on tail section of jet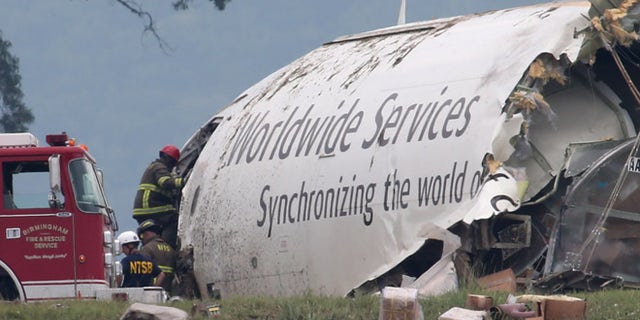 NEWYou can now listen to Fox News articles!
BIRMINGHAM, Ala. – Investigators have taken a large box-like object from the tail section of a UPS jet that crashed at Birmingham's airport, killing two pilots.
Thursday's search focused on the tail section of the aircraft, where the cockpit voice recorder and the flight data recorder are typically located.
The National Transportation Board hasn't said whether it has located the devices.
Late Thursday morning, a reporter observed an investigator carrying the box-like object from the tail section. Investigators gathered around it for a moment, then put it on an ATV and left without commenting.
The two devices could hold key evidence about what happened as the jet was attempting to land in Birmingham early Wednesday. The plane slammed into a hillside just short of the runway.