Uproar after New Jersey high school allegedly suspends students over gun-range photo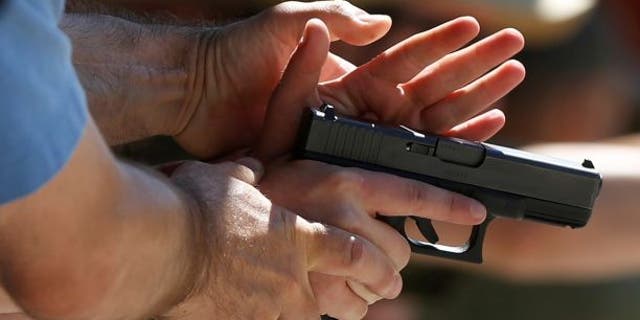 A New Jersey high school came under fire Friday after it allegedly suspended two students over a gun photo taken during a family visit to a shooting range.
News of the unnamed students' suspension circulated through a Lacey Township Facebook group, according to NJ.com.
Amanda Buron, a Lacey resident and family friend of one of the suspended students said one of the photos shared on SnapChat featured four rifles, magazines, and a gun duffel with the caption "fun day at the range," NJ.com reported.
Buron said the two students received a five-day in-school suspension after the picture drew the attention of Lacey Township High School officials, who argued that it violated the school's policy on weapons possession.
The school district shortly faced community backlash for the alleged suspension, with many calling for people to appear at the school board's next meeting on Monday to protest the decision.
The school, however, denied the students were suspended over the picture.
"Information posted on social media is incorrect," Lacey schools Superintendent Craig Wigley told the publication last week. The officials declined to provide any additional details or point out what exactly was false.
The controversy brought the attention of a New Jersey gun advocacy group that sent the school district a cease and desist letter and threatened with a lawsuit if it does not overturn the suspension of the students and change the policies regarding the Second Amendment.
The Association of New Jersey Rifle & Pistol Clubs (ANJRPC) said in a letter that the school's policies allow suspending students for up to a year if they are "reported to be in possession of a weapon of any type for any reason or purpose on or off school grounds."
"Information posted on social media is incorrect."
"The policy is clearly wrong and violates the Second Amendment. We hope that they're reasonable people and they will fix it. If they don't, we're prepared to take legal action," ANJRPC executive director Scott Bach told NJ.com.
The group also demands the school to apologize to the two suspended teens.
"Schools do not have the authority to chill the rights of their students off of school grounds, and this blatant infringement of constitutional rights will not be tolerated," Bach added. "I don't care if no students were disciplined. The policy has got to go."
Overtly broad policies of the school district have been criticized in the past. Ed Cardinal, whose son attends a school in the same district, said the officials once demanded his son to remove a window sticker of a gun from his pickup truck that he drives to school.
"He was kind of heated about it and so was I," Cardinal said.
They abided by the demands and removed sticker after the district threatened to punish the teen.