'Up' house attracts no bidders, could be torn down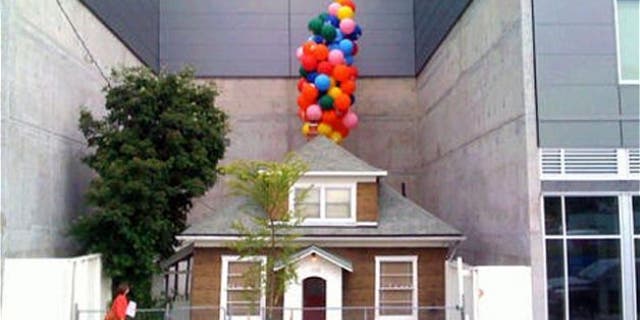 The future of the "Up" house is, well, up in the air.
The home made famous by an 85-year-old Seattle woman who refused to move despite being offered $1 million nine years ago -- helping inspire the 2009 Disney movie "Up" -- failed to attract bids at auction Friday morning.
Q13Fox.com reported that Edith Macefield's home, located in the Ballard neighborhood, will go back to the bank, and could be torn down. She made headlines in 2006 when she refused an offer of $1 million to sell the house to developers, who reportedly wanted to build a boutique supermarket and a health club in its place. So instead, builders erected a five-story commercial project around the 115-year-old property, blocking out most sunlight to the house.
Macefield died in 2008, and willed the house to Barry Martin, the construction superintendent on the project, who had befriended her. Martin, in turn, sold the property a year later to a company called Reach Returns, SeattlePI.com reported, and the house eventually went into foreclosure.
SeattlePI.com reported that although five interested bidders were at the King County Administration Building on Friday morning, ultimately no one placed a bid, prompting the house to return to its beneficiary who owes just less than $186,000 on the property.
Bidders explained any purchaser of the property would have had to assume the first deed of trust, which would have amounted to an additional $300,000 on top of the opening minimum bid of $216,270.70, SeattlePI.com added.
But Macefield's folk-hero legacy was still visible Friday, as supporters tied balloons to the fence surrounding her house, a nod to the "Up" film.
"We really admire her spirit," Michael Stephens, a co-founder of Ballard's Macefield Music Festival, told SeattlePI.com. "That inspired us. ... It would be amazing if someone would like to restore the house."