'Unpaid Student Loan' Raid Claim Refuted as Feds Target California Couple in Fraud Probe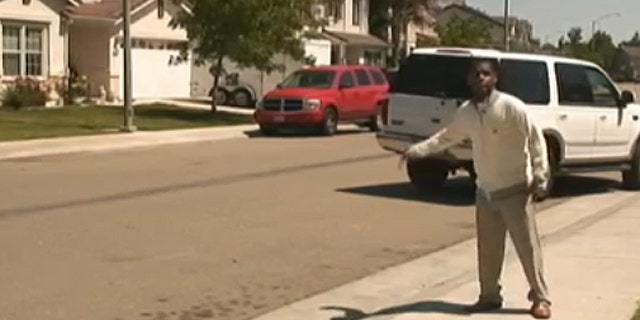 A California man who initially claimed to a local television station that he was roughed up by "SWAT team" members who allegedly battered down his front door to execute a search warrant related to his estranged wife's unpaid student loans was targeted due to an ongoing probe into alleged financial aid fraud.
Local law enforcement officials have thus far not commented on the Stockton man's claim to ABC News 10/KXTV that he was grabbed by the neck and placed in handcuffs in back of a patrol car for six hours as his three children looked on during execution of the search warrant on Tuesday.
Public information officers for the Stockton Police Department and the San Joaquin County Sheriff's Office did not return multiple messages seeking comment in connection to reports of the raid at a Jonathen Street residence occupied by Kenneth Wright, his estranged wife and three children.
In a statement to FoxNews.com, Education Department Press Secretary Justin Hamilton confirmed that its Office of Inspector General executed the warrant with the presence of local law enforcement authorities.
"While it was reported in local media that the search was related to a defaulted student loan, that is incorrect," the statement read. "This is related to a criminal investigation. The Inspector General's Office does not execute search warrants for late loan payments."
Hamilton declined to comment on the specifics of the case, citing an ongoing investigation.
"We can say that the OIG's office conducts about 30-35 search warrants a year on issues such as bribery, fraud, and embezzlement of federal student aid funds," the statement continued.
Hamilton referred all further inquiries to DOE's Office of Inspector General. Catherine Grant, OIG's spokeswoman, declined to provide a copy of the warrant served on Tuesday.
Wright, who could not be reached for comment on Wednesday, told ABC News 10/KXTV he does not have a criminal record and had no reason to believe what he thought was a SWAT team would be breaking down his door before dawn. But according to a federal search warrant provided to the station by Wright, the Wrights are being investigated for alleged financial aid fraud.
The search allowed for the seizure of any student financial aid documents, W2 forms and electronic communications.
During the early morning raid, Wright said he saw more than a dozen law enforcement officials as he came downstairs wearing only underwear.
"I look out of my window and I see 15 police officers," Wright told the station.
Wright said he came downstairs wearing only underwear as the officers barged through his front door. An officer then grabbed him by the neck and led him outside to the front lawn.
"He had his knee on my back and I had no idea why they were there," Wright continued.
Wright claims the officers also awakened his three children -- ages 3, 7 and 11 -- and placed him in a Stockon Police Department patrol car for hours as they began the search.
"They put me in handcuffs in that hot patrol car for six hours, traumatizing my kids," he told ABC 10/KXTV.
Wright later went to the offices of Stockton Mayor Ann Johnston and was then referred to the Stockton Police Department, city spokeswoman Connie Cochran told FoxNews.com.
"They busted down my door for this," Wright told the station. "It wasn't even me."
One of Wright's neighbors, a woman who identified herself only as Becky, saw the raid, which started at 6:45 a.m. and lasted until at least 10:45 a.m., she said.
"They surrounded the house; it was like a task force of SWAT team," she told the station. "They all had guns. They dragged him out in his boxer shorts, threw him to the ground and handcuffed him."
Multiple calls to a Stockton Police Department spokesman were not returned on Wednesday. According to ABC 10/KXTV, the Stockton Police Department said it was asked by federal agents to provide one officer and one patrol car for a police presence when executing the search warrant.
"All I want is an apology for me and my kids and for them to get me a new door," Wright said.