University of North Dakota resumes using Fighting Sioux nickname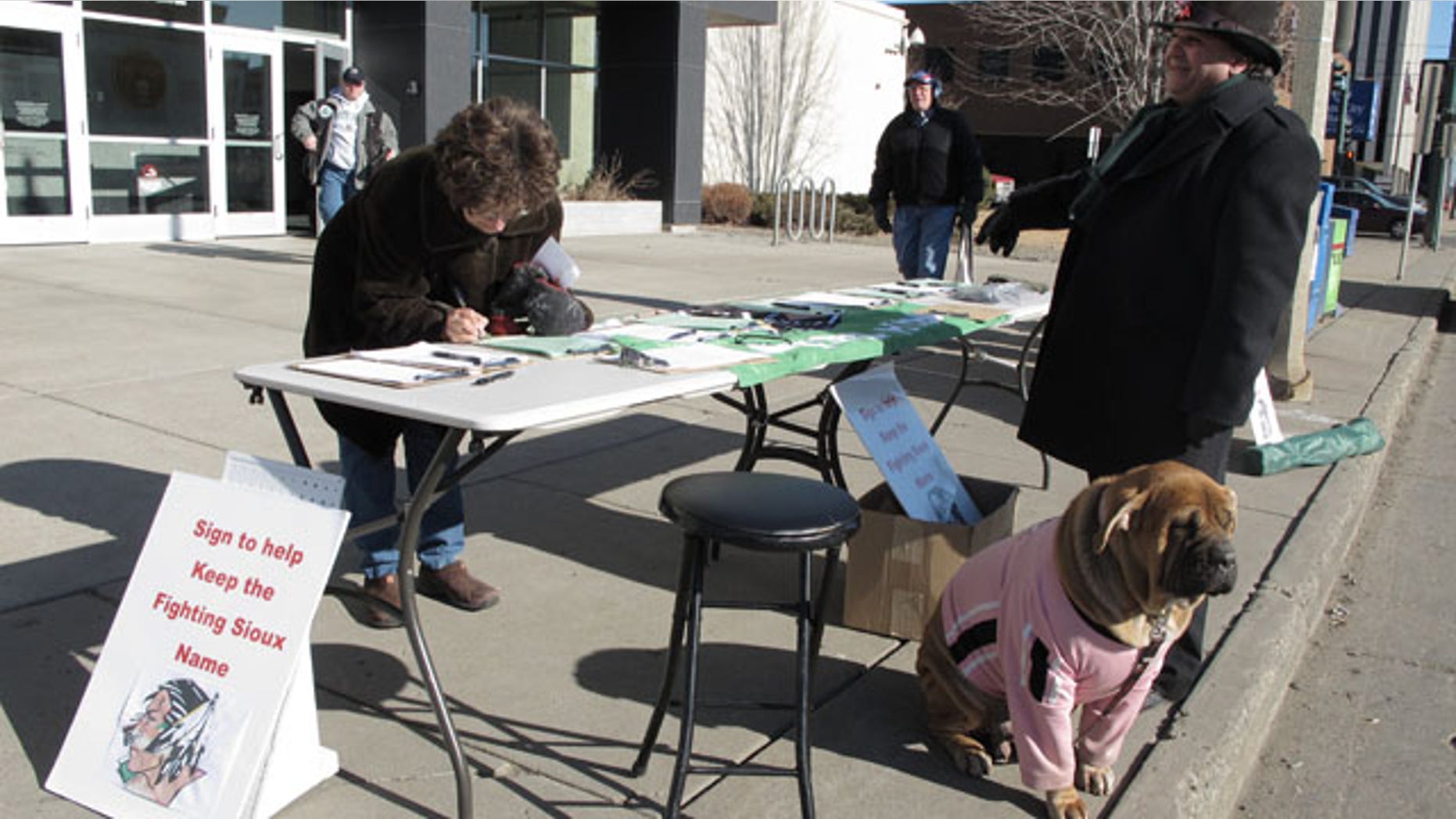 Riding a wave of public support, the University of North Dakota has resumed using its "Fighting Sioux" nickname despite threats of sanctions from NCAA officials and a looming legal fight that could end up in the U.S. Supreme Court.
"We realize the NCAA will likely place us back on sanction status immediately," said Grant Shaft, president of the state's Board of Higher Education.
Supporters of the nickname, which the NCAA regards as insensitive to Native Americans, are seeking a referendum on whether to restore a law repealed in November that required UND to keep the name. The school dropped the name when the law was repealed.
Shaft was joined in his defiance by the school president, Robert Kelley, who announced Wednesday that the 14,000-student public school's athletic teams will resume using the nickname. Kelly said the school decided to resume using the nickname and logo to respect the state's referendum process, which requires that the pro-nickname law be in effect while the state reviews the more than 17,000 signatures submitted to North Dakota's secretary of state on Tuesday.
"I want to reaffirm our respect for the laws of the state and the processes guaranteed under the North Dakota Constitution," Kelley's statement read.
Shaft told FoxNews.com his office plans to meet on Monday with North Dakota Attorney General Wayne Stenehjem, whom he expects will advise the board of its options. Shaft said the board is likely to join Stenehjem's bid for a declaratory position from the U.S. Supreme Court on the matter.
Liz Brocker, a spokeswoman for Stenehjem, declined to comment when reached by FoxNews.com.
Shaft told FoxNews.com he is concerned about potential sanctions from the governing body of college athletics.
"What we're most interested in is what we hear from the NCAA and the Big Sky Conference," Shaft told FoxNews.com.
Calls to NCAA officials seeking comment were not returned on Wednesday.
Reed Soderstrom, chairman of the referendum campaign, said organizers delivered 17,213 signatures to Secretary of State Al Jaeger late Tuesday. Jaeger told FoxNews.com he will start processing those signatures on Wednesday. Under state law, he has 35 days to review them and decide whether they are sufficient to qualify for the ballot.
"That'll be the first step in the process," Jaeger said. "Whether we'll need that long, I don't know."
In 2006, the NCAA called on 19 schools with American Indian nicknames, logos and mascots to change their "hostile and abusive" nicknames or obtain permission from local tribes to keep using them. Most changed their names, although the Florida State Seminoles and the Central Michigan Chippewas were among the schools that got tribal permission to keep their nicknames.
The Associated Press contributed to this report.