University of Miami fan, officer altercation now under investigation by police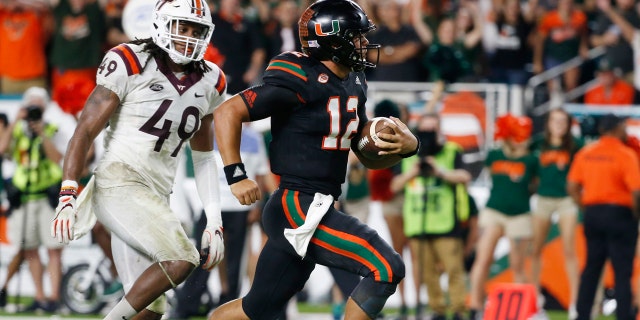 A videotaped altercation showing a University of Miami football fan slapping an officer who then appears to punch the fan in the head at a game has sparked an investigation, officials said Sunday.
Miami-Dade Police Detective Alvaro Zabaleta said in an email to the Associated Press that the department is "gathering all of the details to gain a clear understanding of what occurred" during the altercation at Hard Rock Stadium during Miami's win Saturday over Virginia Tech.
The video, originally posted to Bartstool UMiami's Twitter and Instagram pages, shows three Miami-Dade officers carrying a young woman, who is wearing a Miami jersey.
After flailing at one officer and missing, the woman then slaps another across the face.
The officer then hits her in the head with his right fist, causing the woman to crumble as she is carried out of camera range.
The unidentified spectator who recorded the video told WSVN he was stunned by what he saw.
"Everyone was disgusted by it," he said. "Whether or not she kicked him or whatever she was doing, you can see in the video, she doesn't deserve to be punched in the face like that, especially by a grown man."
Police have not said what led to the woman being removed, if she was intoxicated, or whether or not she was arrested after the incident.
The Associated Press contributed to this report.