Universities issue guides, threats and counseling for 'offensive' Halloween costumes
Is your daughter's Halloween costume "appropriate"?
Unless you're Polynesian, dressing up your child as Disney's Moana is racist, according to an activist parenting blogger.
Little girls dressing up as Elsa from Frozen should just let it go —because her character promotes "white beauty," Sachi Feris writes in her blog, Raising Race Conscious Children, in a post that went viral and was picked up by Cosmopolitan.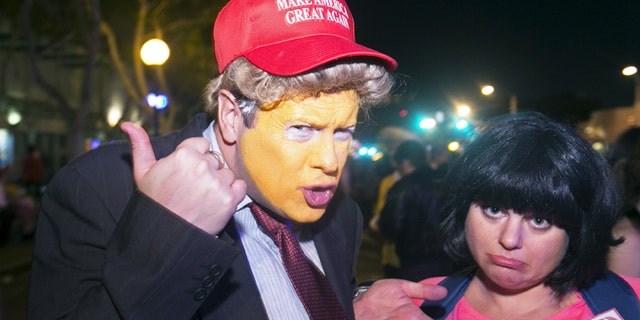 But that's all child's play compared to the continued policing of costumes on college campuses.
The mere possibility of someone dressing up in what could be viewed as an "offensive" costume is causing several colleges to proactively warn students — using guides, checklists, workshops, threats of probes and investigations. Even offering 24/7 counseling.
Recently, schools cracked down on non-politically correct outfits, from creepy clowns to Caitlyn Jenner, and just about everything in between.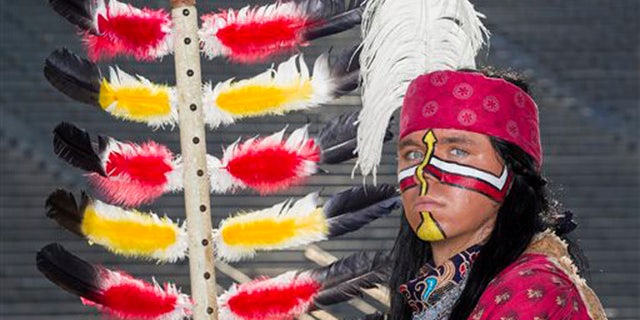 "The scariest thing about your costume isn't what you think," according to a "Halloween and Cultural Appropriation Tabling" event at Goucher College in Maryland.
The University of St. Thomas in Minnesota put up "Costume or Culture Appropriation" fliers listing "unacceptable" costumes and clothing as including Native American headdresses, a Mexican sombrero, a geisha outfit or any form of blackface.
"Cultural appropriation is defined as 'the act of taking intellectual and cultural expressions from a culture that is not your own, without showing that you understand or respect the culture'," the flier read.
Offensive costumes incorporate "a long history of prejudice, hate, discrimination, colonialism and slavery" as well as turning "an important and/or sacred element into fashion."
And just in case you don't get easily offended by costumes, several universities are ready to help.
The University of California, Santa Barbara recently held a Social Justice Workshop to teach students how to spot Halloween costume abuse and appropriation.
Similarly, Washington State University's Social Justice Peer Educators Group held an event entitled "We're a Culture, Not a Costume" to teach people about "harmful" Halloween costumes, according to Acculturated.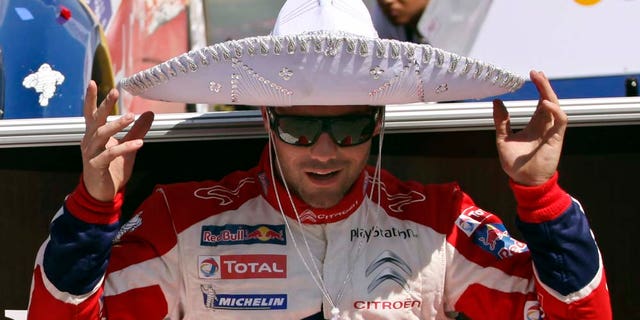 The University of Massachusetts, Amherst put up "Simple Costume Racism Evaluation and Assessment Meter" (SCREAM) posters around campus, assigning threat levels based on how much a costume differs from the student's own race.
Ohio State University's student magazine had a similar flow chart this year that supports costumes that "make fun of Donald Trump," but warns white students not to dress as Prince or wear "traditional head wear from other cultures."
A Notre Dame Residence hall rector sent out a memo to her students before a Disney-themed dance not to dress up as Moana, Aladdin, Pocahontas, Mulan or The Princess and the Frog.
At the University of Utah, a newsletter put out by the Student Affairs Diversity Council, tells students to avoid Halloween costumes if it is labeled "tribal" or "traditional," or if it includes dreads, locs, afros, cornrows or a headdress.
Northern Arizona University's Housing and Residence Life warned against African-inspired costumes, Pocahontas, Asian rice hats and more, according to The College Fix.
At Princeton University, the Center for Equality held a "dialogue about the impact of cultural appropriation, Halloween, and why culture is not a costume."
To ensure students don't make the wrong choice, The University of Southern Indiana hosted a workshop for students to make their own "culturally appropriate" costumes, as reported by The College Fix.
Meanwhile, Minnesota State University Moorhead is set to have a panel discussion called "Not Your Festival Wear: Fashion and Cultural Appropriation" that asks how "appropriation is fueled by women's fashions and 'white feminism.'" Vanderbilt University Residential Education, in collaboration with Vanderbilt Feminists, is hosting a chat on cultural appropriation "just in time for Halloween."
Texas A&M University held a cultural appropriation diversity workshop earlier this month, and the University of New Hampshire took it a step further, hosting an entire cultural appropriation "teach in" not only aimed at Halloween, but also Cinco de Mayo and Dia de los Muertos.
At Tufts University, students were warned they could be subject to probes from campus police for costumes that make students "feel threatened or unsafe." Administration officials encouraged students to report anyone wearing an "inappropriate and offensive costume," according to the College Fix. Examples include geishas, Native Americans, Confederate soldiers or anything involving wearing blackface and/or a sombrero.
The University of Texas issued a 29-point checklist on offensive Halloween costumes that said even "seemingly harmless themes can be carried out incorrectly," and the bias response team asked students to report any "party with a racist theme."
A Greek official at Pennsylvania's Gettysburg College went so far as to warn fellow Greeks their chapters could be shut down if they wear the wrong costumes.
The University of Florida offered 24/7 counseling last year around Halloween.
"Some Halloween costumes reinforce stereotypes of particular races, genders, cultures, or religions," the administration wrote. "Regardless of intent, these costumes can perpetuate negative stereotypes, causing harm and offense to groups of people."