'Unite the Right' organizer's dad scolds son during live stream: 'Hey, you get out of my room!'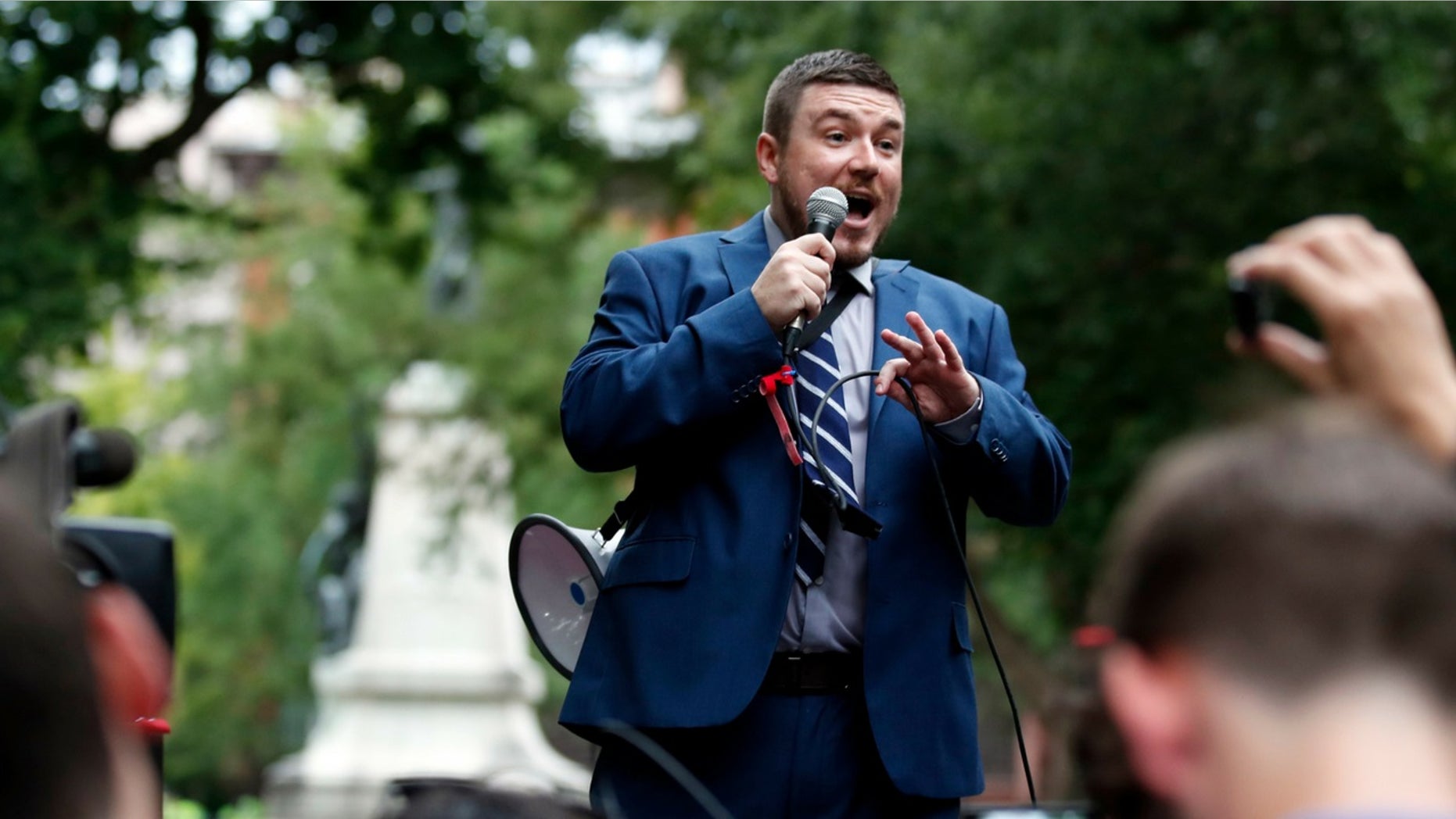 Jason Kessler, the nationalist organizer of the highly controversial "Unite the Right" rallies, has endured plenty of angry people screaming at him as he spouts his brand of shocking rhetoric -- such as a belief the History Channel shows "constant anti-German propaganda."
But his most humiliating detractor may be the one closest to home: His dad.
WARNING: VIDEO CONTAINS GRAPHIC CONTENT
Kessler's father was caught on video yelling at his infamous son during a live stream with white nationalist Patrick Little -- that happened to be filming from the elder Kessler's bedroom.
Kessler and Little were discussing Israel, anti-Semitic conspiracy theories and "sex slavery" when an irritated voice was heard in the background.
"Hey, you get out of my room!" Kessler's father was heard saying.
Little asked Kessler if there was a "drunk roommate in there."
'UNITE THE RIGHT' MARCH TRIGGERS TENSION, ANTIFA CLASHES, HUNDREDS OF COUNTERPROTESTERS
Kessler, 34, replied, "Something like that" before saying the person was "somebody who supports Orthodox, uh, Israeli, like, is — we're at a crosshairs on that stuff."
"I want this to stop in my room, Jason. This is my room," Kessler's father was heard saying.
Little laughed and told Kessler to clean his room, saying he "assumed that's a parent there" before asking if he was "staying with an Orthodox Jew."
"No, it's my father," Kessler explained before saying his family watches the "American history channel," which, Kessler complained, showed "constant anti-German propaganda."
"I'm stuck in a situation where I have to stay with my family because I'm paying for all these lawsuits, and I can't afford to do that without staying with my family," Kessler explained. It was not immediately clear where Kessler's family lived.
Little said he was currently live-streaming from a boat he had just in case he was evicted from his residence. He boasted the boat had a king-size bed and hot water.
SUSPECT FROM 'EXTREMIST MUSLIM' COMPOUND LIVED IN US ILLEGALLY FOR OVER 20 YEARS: OFFICIALS
Though video of the interaction went viral on Twitter this week, the full video was posted by Little in June.
Kessler's father, Eric Kessler, told the Washington Post he stopped speaking to his son since he learned about his views. He added the family "was dismayed across the board about this situation. We've never identified with racial politics."
On Sunday, Kessler organized another "Unite the Right" in Lafayette Park, near the White House. He said he expected 100 to 400 people to show up -- but the crowd had far fewer people.
The Associated Press contributed to this report.