Union hypocrisy? Labor group pickets fellow union's construction project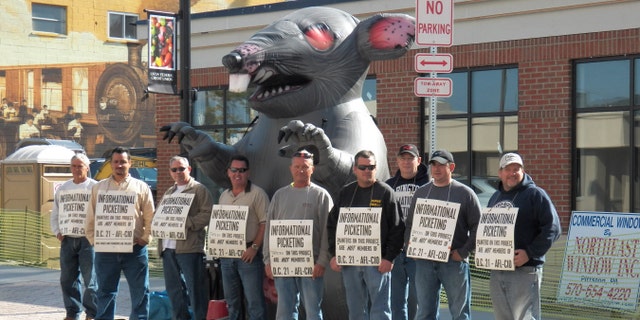 NEWYou can now listen to Fox News articles!
A Pennsylvania construction local has found an unlikely target for its latest picket -- a credit union run by a fellow labor organization.
The International Union of Painters and Allied Trades (IUPAT) was carrying signs and chanting slogans in front of the future site of the United Food and Commercial Workers federal credit union in downtown Pittston. They even have the ubiquitous inflatable rat, the attention-grabbing icon labor locals use to draw attention to employers who use non-union labor.
IUPAT union representative Bob Griffiths said he never expected a fellow union to bypass organized labor to save a buck. The local's members have done work at the UFCW's three other locations in neighboring towns, and Griffiths said his own local's 260 members have banked with the UFCW's credit union. Now he's told them to take their business elsewhere.
"When we asked why they were not using union workers, they [UFCW] told us that they did not own the building," Griffiths told FoxNews.com. "We've found another credit union that is all-union. We are going to recommend that our members transfer their accounts."
Representatives for the UFCW did not immediately respond to repeated requests for comment.
Griffiths speculates that the non-union work is a cost-cutting measure and that the credit union circumvented using union work by claiming that the building, which will be a fully operational banking location, will be sold or leased to the UFCW upon completion.
"It's about the principal, not losing the work," he added.
Members of IUPAT intend to keep picketing while construction continues.