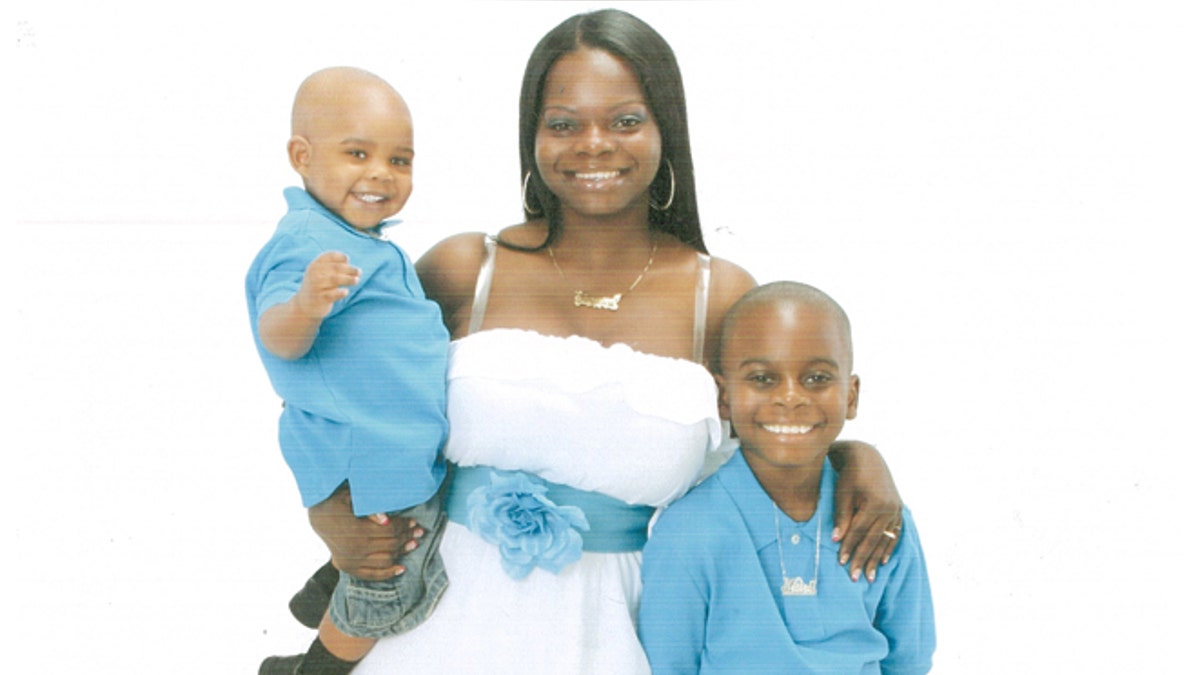 EXCLUSIVE: Shaneen Allen wants to know what makes her so different from Ray Rice.
Allen, a 27-year-old Philadelphia mother who says she mistakenly entered New Jersey with a handgun legally registered in her state, was not accepted into a pre-trial intervention program, unlike the former Baltimore Ravens running back who was caught on an elevator surveillance camera punching his then-fiancée and current wife. The disparate decisions, made by the same prosecutor and approved by the same judge, leave Allen facing more than three years in prison and Rice free, though disgraced.
Atlantic County prosecutor Jim McClain recommended Rice for the program in May, months after denying the single mother's application. And Superior Court Judge Michael Donio, who signed off on the agreement that spared Rice jail time, denied a motion by Allen's attorney to force McClain to reconsider.
[pullquote]
"That's not justice for me or my children," Allen, a single mom of two sons, Niaire, 10, and Sincere, 3, told FoxNews.com. "What makes Ray Rice so different from me that I couldn't be accepted by the same prosecutor and judge? Is it that he was a pro athlete but I'm a single mother of two?"
Jay McKeen, public information officer for the Atlantic County prosecutor's office, said McClain's position on Rice's case has been clearly stated in previous court filings and press releases.
"We have no comment beyond that," McKeen told FoxNews.com early Wednesday. "Neither do we have comment on the conflation of the two cases."
McClain announced Rice's acceptance into the program for first-time offenders — similar to probation in that it avoids incarceration and requires certain conditions be met — on May 20, saying the decision was made after "careful consideration" of all facts surrounding the case.
"After considering all relevant information in light of applicable law, it was determined that this was the appropriate decision," McClain said in a statement.
McKeen declined to indicate whether prosecutors made that decision prior to seeing the elevator surveillance tape released on Monday clearly showed Rice — who has since been indefinitely suspended by the NFL — striking Janay Palmer in the Revel Casino Hotel in Atlantic City. The couple has since married.
The president of New Jersey's state Senate is now calling for a review of the decision to allow Rice into the program and at least one New York-based attorney with knowledge of New Jersey's "Draconian" gun laws said the comparison between the cases is a valid one.
"She is being strong and she's proven to be a survivor, but to have her go through this is outrageous," Allen's attorney, Evan Nappen, told FoxNews.com. "It does raise dubious questions about [the PTI program]. It just makes you shake your head."
Allen, who is legally permitted to carry a concealed firearm in Pennsylvania, was pulled over in New Jersey's Atlantic County after making an unsafe lane change in the early morning hours of Oct. 1. She told the officer she had a .380 Bersa Thunder handgun during the traffic stop.
Allen last month rejected McClain's offer to serve 3 ½ years in prison. Nappen said Allen was not denied entry into the program due to her gun charges. Many prosecutors in the state allow individuals like Allen to participate in the program or choose not to prosecute similar suspects altogether, he said.
"The prosecutor has the discretion," he said. "That's the bottom line. So pretrial intervention is absolutely something this prosecutor could have done for Shaneen but did not and chose to do so for Ray Rice."
Attorney Mark Bederow said the comparison between Allen and Rice is a valid one.
"We've heard them say that this is standard operating procedure and if that's the case, then this program is in crisis," he told FoxNews.com Wednesday.
Bederow said he found it "mind-boggling" that Allen, who has since lost her job as a medical technician, faces at least 3 ½ years behind bars if convicted yet Rice remains free, albeit without a current employer. Rice, also 27, has lost several endorsement deals after the video surfaced online, including pacts with Nike and M&T Bank.
"There isn't a reasonable person in America who would literally say that this woman deserves to be in prison and Ray Rice should be free," he said. "I think they're going to have a credibility issue … It's a ludicrous scenario."
Bederow said the case reminded him of a 2011 case in which a Florida man was found not guilty for driving into New York City with an unloaded gun that was legal in his hometown. Jonathan Ryan, then 29, reportedly won over a jury thanks to his "Southern charm," something Allen's attorney hopes she can emulate come next month when her trial is scheduled to start on Oct. 6.