Uneasy calm as Ferguson protests resume amid hunt for cops' shooter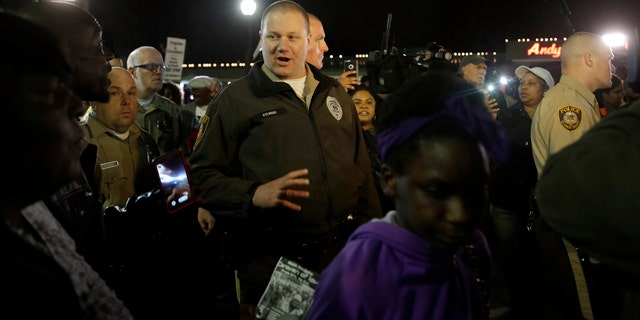 FERGUSON, Mo. – An uneasy calm hung over Ferguson, Mo., Friday as protesters vowed to continue their demonstrations even as the manhunt continued for whomever fired from a crowd early Thursday, hitting two police officers
About 100 protesters returned to demonstrate Thursday night at the headquarters of a police department at the center of controversy since last August, when a police officer shot an unarmed man dead. The latest gathering came on the same day that a previous demonstration culminated in the shooting of two cops from neighboring jurisdictions, assigned to keep peace. Despite the injuries to the police officers, who were both treated and released, and the ongoing hunt for the suspect or suspects who shot them, protesters remained defiant.
"We'll not be derailed in the pursuit of justice by anybody or anything that wants to get in our way," said the Rev. Traci Blackmon, a member of the state's Ferguson Commission who led the prayer vigil at a public plaza in downtown Ferguson near the police department. "We refuse to stop."
Police were once again forced to stand guard in front of the police headquarters, potentially exposed once again to gunfire. Angry protesters, still unconvinced by a Department of Justice report that found former Ferguson Police Officer Darren Wilson's shooting of Michael Brown was not unjustified, demanded that more heads roll at the department, where Police Chief Tom Jackson resigned on Wednesday.
"How many kids did you guys kill today?" one protester shouted at police officers who walked by him.
Others who gathered for a candlelight vigil Thursday night expressed sympathy for the wounded officers and prayed for peace as Ferguson moves forward in the wake of the Justice Department report, which despite clearing Wilson, accused the department of racial bias in its law-enforcement practices.
Some called for specific changes: the resignation of Ferguson's mayor or the disbanding of the police department. Others were there to remember 18-year-old Michael Brown, whose shooting death by a Ferguson police officer in August made the city a national focal point.
The shootings just after midnight on Thursday came as protesters had gathered after the resignation of the city's embattled police chief. They marked the first time in more than seven months of tension in Ferguson that officers were shot at a protest, and the bloodshed threatened to inflame the already fraught relationship between police and demonstrators.
Three people were reportedly questioned on Thursday, but no arrests have been made, according to police.
Both wounded officers were released from the hospital Thursday, but St. Louis County Police Chief Jon Belmar -- who called the attack an ambush -- said they could have been killed. One was shot in the right shoulder, the bullet exiting through his back. The other in the right cheek, just below the eye. The bullet lodged behind his ear.
Several people were taken in for questioning but were later released, and no arrests were made by late Thursday. The shots were believed to come from a handgun across the street from the police department.
The gunman may have fired from up to 120 yards away, a distance longer than a football field. But with a line of roughly 20 officers standing in front of the building, the shooter did not have to be particularly accurate to hit two of them, Belmar said.
In Washington, President Barack Obama took to Twitter to relay his prayers to the officers and to denounce violence against police. "Path to justice is one all of us must travel together," Obama wrote, signing the tweet with his initials to indicate the president personally composed it.
Attorney General Eric Holder said the gunman was "a damn punk" who was "trying to sow discord in an area that was trying to get its act together, trying to bring together a community that had been fractured for too long."
In a statement, Ferguson Mayor James Knowles III and the city council said that although they respect the right to protest peacefully, "we cannot continue to move forward under threats of violence and destruction to our community. We ask our residents and clergy in this area to partner with us as we make our way through this process."