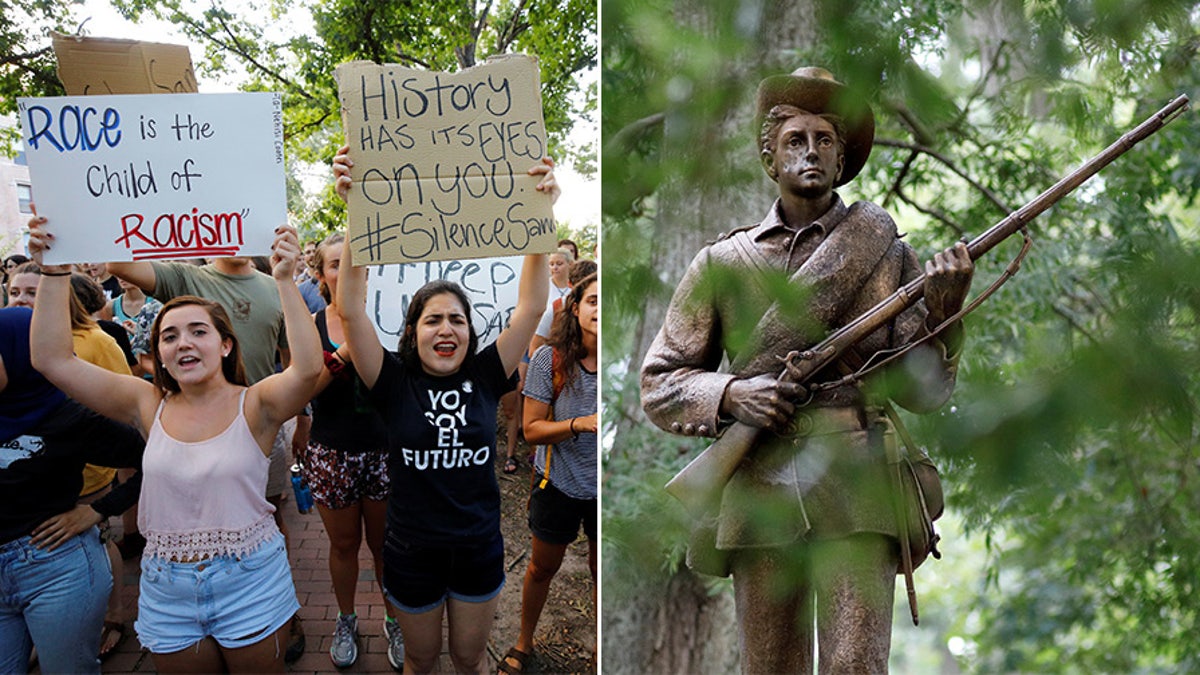 A University of North Carolina at Chapel Hill police officer allegedly went undercover in an attempt to infiltrate protesters who were gathering regularly near the "Silent Sam" Confederate statue, prompting outrage among local activists.
The News & Observer reports Police Officer Hector Borges posed as an auto mechanic named "Victor" who was sympathetic to the demonstrators' cause against Confederate monuments. But on Nov. 2, activists spotted Borges on campus in police uniform – and the covert gig was up.
Student activists confronted the officer and recorded the conversation. They posted the exchange on Facebook.
Maya Little, a graduate student and sit-in organizer who posted the video of the confrontation, told the News & Observer that this is different from regular campus patrol work because "you had an officer trying to create a fake back story and trying to infiltrate a student group."
Another organizer and graduate student, Lindsay Ayling, told the newspaper that Borges also kept an eye on the protests against the UNC's Board of Governors' move in September to bar the UNC Law's Center for Civil Rights from litigating cases.
The university's use of police to monitor demonstrators "has a chilling effect on free speech," as "activists are afraid to come out to the statue when they know they're constantly being watched," said Ayling, adding that "we can't really call ourselves a democratic society when we're conducting police operations against free speech."
UNC released a statement from campus police spokesman Randy Young that said authorities are "aware of the recorded conversation" between the officer and the activists.
Young also said UNC police have "assigned officers to the area around Silent Sam, both in uniform and plain clothes," since a mid-August rally in Charlottesville, Va., by white supremacists opposed to the removal of a Robert E. Lee statue led to the death of counterprotester Heather Heyer.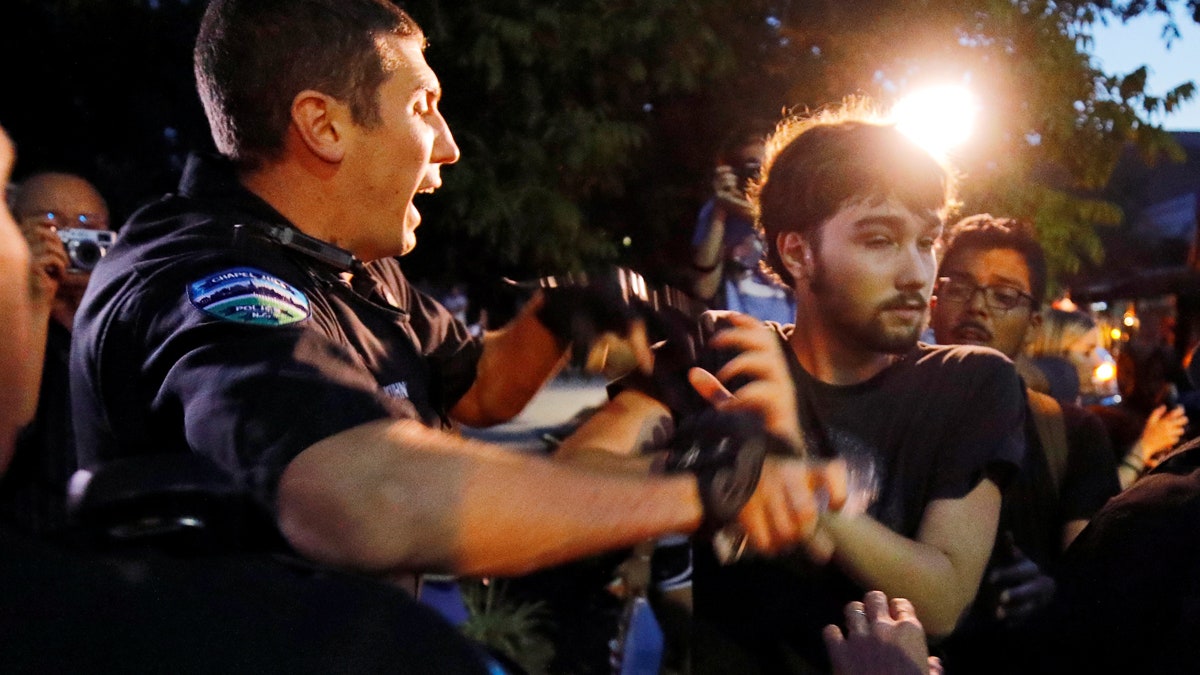 As "Victor," Borges was a daily presence at the statue from Aug. 22 until the end of the month, Little noted, adding that other activists reported seeing him the following week.
Both women said Borges tried to ingratiate himself with the protesters and that he spoke mostly with students.
STUDENTS DEMAND UNC REMOVE CONFEDERATE STATUE FROM CAMPUS
"He seemed like a nice guy," Aylin told the publication. "I talked to him a lot about my dissertation research. He talked to other people about their children. One activist is bilingual, so he spoke Spanish to her to gain her trust."
Little said he was upset when she learned the truth.
"A police officer that we pay our student fees and tuition to was hired to spy on us, to spy on students," Little told the UNC board during a Friday meeting, reports WTVD.
UNC activists want the university to take down Silent Sam, but its authority is restricted by a 2015 state law that makes it harder for state agencies to take down so-called "objects of remembrance."