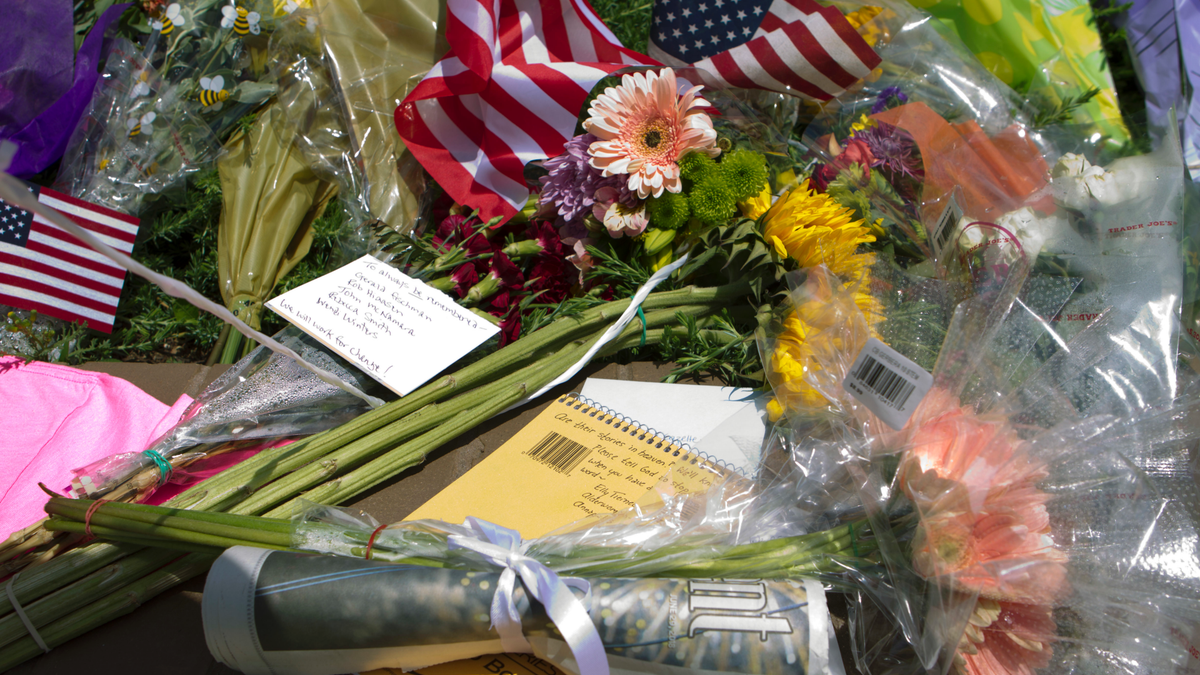 ANNAPOLIS, Md. – Staff writer Selene San Felice was working on a story when a loud bang shattered the typical office noise of keyboards, phone calls and the occasional shout that a story was finished.
San Felice heard the shots and made a break for the back door. It wouldn't open.
It had been barricaded as part of a targeted attack aimed specifically to kill Capital Gazette staffers. Staff members hid under desks and did everything they could to stay silent for fear the shooter would discover them.
There were 11 people in the Capital Gazette's newsroom Thursday. Five were killed. Six other newsroom employees were on vacation, out of the office or done with work for the day. Advertising representatives were in Baltimore for a meeting.
Rob Hiaasen, 59; Gerald Fischman, 61; Wendi Winters, 65; John McNamara, 56; and Rebecca Smith, 34, were killed in the attack. Hiaasen, Fischman, Winters and McNamara were editors. Smith was a sales associate who worked near the front door. All were beloved by their co-workers.
"I heard the first shot and heard a yell," San Felice said, who hid with Capital Gazette intern Anthony Messenger. "By the second shot and the third shot, I knew what it was. That is when I picked up my purse and said, 'I'm leaving.' I knew that was selfish. I knew something bad was happening."
A man armed with a pump-action shotgun blasted his way into the office Thursday and fired on Capital Gazette staff members. The newsroom has a long, L-shaped walkway that connects the advertising desks, the newsroom and the back of the office where sports and government reporters sit.
The shooter had a clear path and vision of the entire office.
Jarrod Warren Ramos, 38, has been charged with five counts of first-degree murder and ordered held without bond.
Ramos had a long-held grudge with the Capital Gazette that began in July 2011 after the paper ran a column about a criminal harassment case in which he was involved. He unsuccessfully sued the paper for defamation.
Reporters who survived the attack recalled hiding under their desks or scrambling for the back door.
They heard shouts of "No" and "Oh God" just before a shotgun blast and then silence. And then another shotgun blast.
One reporter — who was near one of the editors killed — said it sounded like labored breathing. Then he stopped.
Staff writer Phil Davis heard the blasts and recalled thinking it was a shotgun. His desk has a filing cabinet along the alleyway where the shooter walked, concealing Davis.
A colleague was shot just feet away. Other reporters — friends he would enjoy drinks with after work — were hiding a row of desks away.
"I heard a woman scream," Davis said. "The shots were getting closer as he was walking up the alley to the back door and shooting people on the way. I knew someone was killed or very hurt. There were shots after he reloaded. He reloaded the shells individually. I stayed under my desk hoping he didn't hear me."
Staff writer Rachael Pacella had received a request from Hiaasen when she heard the shots and immediately went to hide. She changed her mind and made a break for the back door. But she tripped and smashed her face on the wall.
She suffered a concussion, a cut on her face and bruises. She was bleeding heavily while she scrambled near San Felice and Messenger who were hiding in the rear section of the room.
"The whole place smelled like gunpowder," Pacella said. "When I was hiding, I saw a flashlight shine on the floor, six feet in front of me. That was terrifying. If it was a police officer, they didn't announce themselves . I thought it was the guy.
"A lot of it was focusing on surviving and keeping my breath quiet. I knew I needed to be as quiet as I could be."
Photojournalist Paul W. Gillespie was at his desk editing photos when the shots rang out.
He hid under his desk and "curled up as small as I could," he said. He heard his co-workers shout before they were shot.
"I dove under that desk as fast as I could and, by the grace of God, he didn't look over there," he said. "I was curled up, trying not to breathe, trying not to make a sound, and he shot people all around me."
After a lull in the shooting — possibly when Davis heard the shooter reload — Gillespie made a break for the front door. He jumped over the body of a dead co-worker and made it outside.
Police arrived about a minute after the shooting began, though survivors said it felt longer. They swept through the office and gathered up Pacella, Davis, Messenger and San Felice. Police moved toward the front of the newsroom and left out the front door. Pacella wasn't wearing shoes — she couldn't recall if she already had them off or ran out of them — so an officer carried her across the broken glass of the front door.
The officers told them not to look.
"In walking forward, we had to walk over an editor," San Felice said.
Davis said he was separated from his colleagues after police arrived. He went with another officer to help him get access to different parts of the building with his key card. Davis then asked the officer if he could get his phone to call his parents. He had to walk over a body multiple times.
"I had a family member die from being shot 20 years ago," Davis said. "I didn't have to walk over his dead body. It is a different feeling when it happens around you. You are helpless. You are hopeless. To then walk over the bodies of those people who were shot for something they had nothing to do with, it is probably something I'll never be able to walk away from. I feel so terribly for everyone's family."
San Felice — who returned to work a day after the shooting — told editors and publishers she wanted people to know that something had to change, that these homicides cannot become another forgotten fact.
San Felice appeared on CNN's "Anderson Cooper 360 " where she cursed and said: "I'm going to need more than a couple days of news coverage and some thoughts and prayers because our whole lives have been shattered."
Those comments drew praise from many. But it also drew out the worst in people.
Some of those critics told San Felice in messages Friday she should have died in the attack.
"We shouldn't have to die for a level of decency to be upheld," San Felice said. "We will never ever get back people like Rob, Gerald, Wendi and John and Rebecca."
___
Baltimore Sun reporters Kevin Rector and Nicholas Bogel-Burroughs contributed to this report.
___
Information from: The Capital, http://www.capitalgazette.com/