Two linked to 'extremist Muslim' New Mexico compound wanted to attack hospital, prosecutors say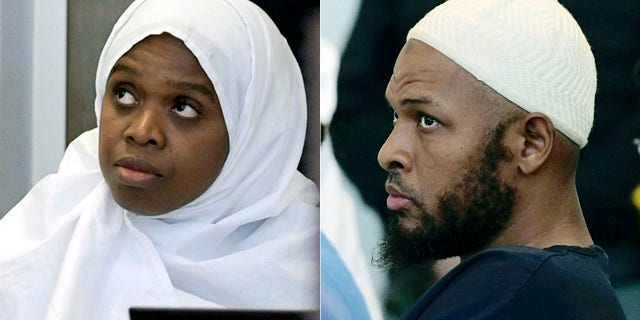 A couple accused of training children to carry out mass shootings at an "extremist Muslim" compound in the New Mexico desert singled out an Atlanta hospital as one target before police arrested them, according to court documents filed Friday.
Prosecutors in Taos County, citing interviews with the 11 children found at the compound earlier this month, claimed in the filing that Jany Leveille wanted to "confront 'corrupt' institutions or individuals ... and reveal the 'truth' to these corrupt institutions or individuals."
According to the prosecutors, one of the children said Leveille "specifically" mentioned Grady Hospital as a "corrupt" institution. They added that Leveille "expressed her displeasure with Grady Hospital ... due to treatment she and her mother received there."
The filing also said investigators recovered a 10-page, handwritten document entitled "Phases of a Terrorist Attack" from the New Mexico compound. The document includes "instructions for the one-time terrorist," but it was not clear if a specific target was mentioned.
Authorities also said Leveille and her partner, Siraj Ibn Wahhaj, "would laugh and joke about dying in Jihad."
Prosecutors also outlined allegations that Wahhaj and his 3-year-old son, Abdul-ghani Wahhaj, left Georgia without taking medications the boy needed to treat severe health problems, including seizures that stemmed from a lack of oxygen and blood flow at birth.
The affidavit alleged that Leveille and Wahhaj witnessed the boy's seizures and knew he had a diagnosed seizure disorder but apparently gave him no medication and took no action to seek proper medical care.
Prosecutors quoted an extensive account of the child's death as written in a journal entry they attributed to Leveille, indicating that Abdul-ghani died in late December 2017 as the exhausted boy's heartbeat faded in and out during a religious ritual accompanied by a reading of the Koran and aimed at casting out demonic spirits.
The boy's remains were found Aug. 6 inside an underground tunnel at the compound.
The prosecutors filed the document as part of their appeal of a district judge's order that could allow at least three of the five adult defendants in the case to be released on house arrest with ankle monitors.
Judge Sarah Backus said the previous evidence provided by prosecutors was troubling but did not indicate any clear threat to public safety from the defendants, who have no criminal records. On Friday, prosecutors said that their new evidence proved Leveille "and possibly others of the defendants may suffer from dangerous delusions ... [and] ... have history of endangering the welfare of children."
In addition to charges of child neglect against her, Leveille also is being held on accusations by federal immigration authorities that she overstayed her non-immigrant visitor visa after arriving 20 years ago in the United States from her native Haiti. She was returned Thursday to Taos from a federal holding facility in Texas.
The Associated Press contributed to this report.