Two adults shot at high school football game in Florida: reports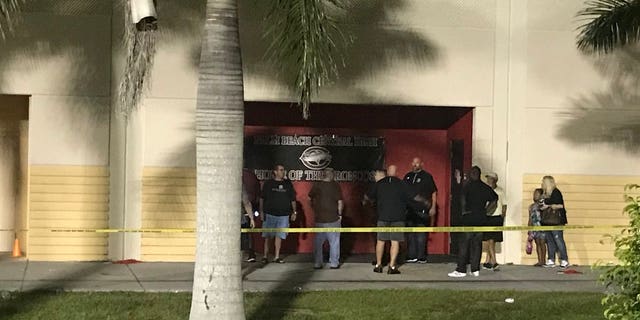 Two men were shot during a practice football game at a Florida high school Friday night, prompting an evacuation of the stadium, multiple reports said.
One of the men was in critical condition in a local hospital, the Palm Beach Post reported.
It was unclear if the men were spectators, or employed by one of the schools involved in the game.
The Palm Beach County Sheriff's Office issued a cryptic tweet, suggesting the victims may have been targeted.
"Both victims are adult males and not students in the PBC School system. This was not a result of a current altercation or a random act of violence," the tweet read.
Officials said no suspect was in custody as of late Friday night, but, "The investigation is very active and ongoing," the tweet said.
Witnesses said the stands were full during the fourth quarter of the preseason game between Palm Beach Central and William T. Dwyer high schools when they heard the gunfire.
It was not immediately clear whether the shots were fired inside or near the stadium -- although at least one witness claimed to know where the shooting started.
"We heard four pops. It was under where the band sits at the south end of the bleachers," Lynn Monnette, who attended the game, told the Post. " ... (S)hoes were flying everywhere. Personal belongings. And people were screaming and running."
Law enforcement began receiving reports of gunfire around 9:15 p.m., Teri Barbera, a spokeswoman for the sheriff's office, told the Sun-Sentinel.
Attendees were quickly evacuated from the area, WPEC-TV of West Palm Beach reported.
A reporter for the Palm Beach Post, who appeared to be at the game, tweeted that there was a "huge police presence" at the school and law enforcement officers on the scene were "armed with rifles."
"Everyone just took off from the field and the stands," reporter Ryan DiPentima tweeted. "Something is happening. Cops are responding. People are reporting three shots heard."
A helicopter arrived at the scene "and a man is being treated on the track," he said.
"It's horrible," Wellington Mayor Anne Gerwig told the Post. "Right now we're just trying to get the most information we can."
The names of the two people shot have not been released.
This is a developing story. Please check back for updates.
The Associated Press contributed to this report.