Turning the tables on Tehran, US persuades Iraq to sideline Iranian-backed militias in Tikrit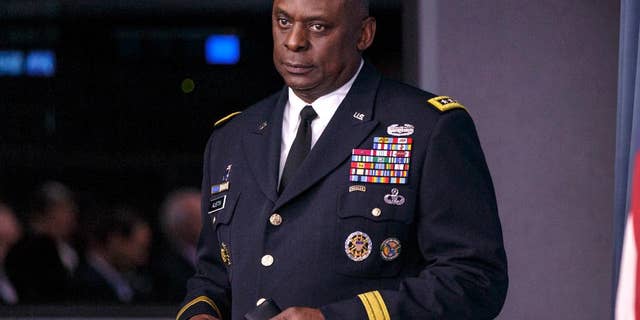 WASHINGTON – The United States persuaded Iraq to sideline Iranian-backed Shiite militias as a condition to American airstrikes in the strategic city of Tikrit, a senior U.S. general said Thursday. The move limits Iran's influence, at least temporarily, and could re-invigorate a ground offensive that U.S. officials said had become stalled under Iranian leadership.
Army Gen. Lloyd Austin, head of U.S. Central Command, told a Senate hearing that he had insisted that Iranian-backed militias pull back before the U.S. began flying intelligence-gathering flights over the weekend and dropping bombs Wednesday in support of a reconfigured Iraqi force of soldiers and federal police.
Spokesmen for a number of the Shiite militias fired back, saying they chose to withdraw from the battle for Tikrit in protest of the United States entering the fray.
Either way, the conditions set for US airstrikes were an important turn of events, given U.S. concerns that Iran's role in Tikrit had unsettled its anti-Islamic State group coalition of Sunni Arab states like Saudi Arabia, that see Iran as an adversary and worry about spread of Iran's Shiite influence.
Tikrit is a predominantly Sunni city and the hometown of former Iraqi leader Saddam Hussein.
The predominant role of Iranian-backed militias in the early stages of the battle to retake Tikrit from IS fighters also raised concerns that the offensive could deepen Iraq's sectarian divide and drive Sunnis to the militants, who already control large swaths of the country.
While the U.S. has bombed IS targets in much of northern and western Iraq nearly every day since August, it had until now been a bystander in Tikrit, saying Baghdad had not requested help. The Iraqis said they intended to liberate the city on their own, while acknowledging they were getting help from Iranian military advisers and arms.
Offering an explanation for "why it failed," Austin said the attempt to quickly recapture Tikrit with Shiite militias in the lead was flawed. He said it lacked precision firepower, proper command from the Iraqi government and a coherent plan for maneuvering ground forces against a dug-in enemy.
Iraq lacks a sophisticated air force. The introduction of American air power is intended to open the door for Iraqi ground forces to enter the city in coming days or weeks. The Pentagon said it was using fighter jets, bombers and armed drones.
U.S. said it conducted 17 airstrikes Wednesday, hitting a dozen military targets including two bridges, two earthen berms, an IS military command post and two staging areas for IS fighters. Officials said U.S. planes resumed attacks on Thursday.
Referring to the Shiite militias armed, trained and advised by Iran, Austin said, "These forces obviously were not being controlled by the government of Iraq." That is a bold statement, given the Iraqi government's assertion that it had effectively and deliberately balanced its partnerships with the U.S. and Iran, which is a neighbor.
Austin cited not only what he called the militia's ineffective leadership in the Tikrit offensive but also his painful recollection of how American troops fighting under his command during the Iraq war had been "brutalized" by Shiite militias.
"I will not, and I hope we never, coordinate or cooperate with Shiite militias," the general told the Senate Armed Services Committee.
Austin said there now are about 4,000 Iraqi regular military troops, special operations commandos and federal police involved in the battle for Tikrit. He said some Shiite militias were in the general area, including across the Tigris river from the main part of the city. And he added that, as best he knew, Iranian Maj. Gen. Qassem Soleimani, commander of the Revolutionary Guard's elite and Quds Force, was no longer in the area.
Austin said the Iraqi government accepted as a condition of U.S. airstrikes not only a pull-back of Shiite militias in the current stage of the ground campaign but also that they not be part of the effort to stabilize the city once it is recaptured.
Late Thursday, Prime Minister Haider al-Abadi visited Camp Speicher, a military base near Tikrit, to meet with military commanders and be briefed on their progress since U.S. airstrikes began.
The battle for Tikrit is widely seen as a step toward the more difficult and potentially decisive battle to regain control of the larger city of Mosul, to the north of Tikrit.
A spokesman for Iraq's Popular Mobilization Units, which mostly consist of Iranian-backed Shiite militias, offered a different explanation for the pullback described by Austin.
Mouin al-Kadhimy, the spokesman, said that a number of Shiite militias are boycotting the Tikrit operation because of the involvement of U.S. forces.
"We led the fight to liberate al-Dawr, to liberate al-Alam, and we are capable of liberating Tikrit without the help of American forces," he said.
Mohammed Abu Ragheef al-Moussawi, the spokesman for one of the militias, Kataeb Hizbollah, told the AP that "we told them from the start that if the Americans enter the fight for Tikrit, we will withdraw. That was our condition."
___
Associated Press writer Vivian Salama in Baghdad contributed to this report.