TSA officials say Phoenix airport bag-screening issue fixed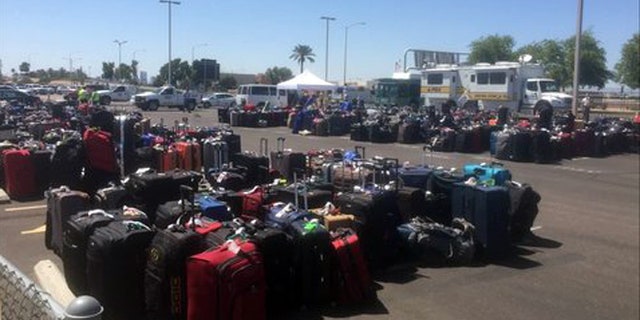 NEWYou can now listen to Fox News articles!
A bag-screening issue that caused more than 3,000 checked bags to miss their outbound flights has been fixed, Transportation Security Administration officials said Friday.
TSA spokesman Nico Melendez said the technical glitch occurred about 6:45 a.m. Thursday at Phoenix Sky Harbor International Airport.
"We are cautiously optimistic that it will be fully operational in the morning," Melendez said. Additional canine units from other airports and network specialists will be on hand in case any problems arise, he added.
Sky Harbor spokeswoman Julie Rodriguez said the problem existed in all three of the airport's terminals. It wasn't immediately known how many of the airport's 16 airlines were affected but Melendez said Southwest was significantly impacted.
"We are not seeing widespread flight delays, but many checked bags are missing flights," Rodriguez said.
The inline baggage systems handle the bulk of the checked luggage, according to the agency. When everything is working properly only about 10 percent of all checked bags are hand-searched by TSA officers.
Workers loaded hundreds of bags onto semi-trailers Thursday evening. Rodriguez said those bags were slated for ground transportation to airports in Tucson and San Diego and then would be screened and flown to their destinations.
Cody Desjadon, 22, of Prescott, Arizona, arrived at the airport shortly after 5 p.m. and knew something was off when he saw a parking lot full of police, dogs, and suitcases.
He and his girlfriend, Hannah Brinser, 19, then learned at a Southwest ticket counter that her large suitcase would take two to three days to get to their destination in Missouri.
"Our trip is three days," Desjadon said.
The couple's main concern was trying to stuff several wrapped gifts for aunts, grandparents and cousins into their two carry-ons.
"It's definitely unfortunate because we're going for a graduation and there's lots of gifts for the graduation. I don't know if we can fit them all," Desjadon said.
Desjadon said a lot of other passengers were more frustrated than he was.
"I've heard every swear word known to man in the last 15 minutes," he said.
Nearly 4.3 million passengers traveled through Sky Harbor in March, making it the airport's busiest month ever.
The Associated Press contributed to this report.
Click for more from Fox10Phoenix.com.