Trump, Pentagon hope 2018 sees more foreign militaries buying American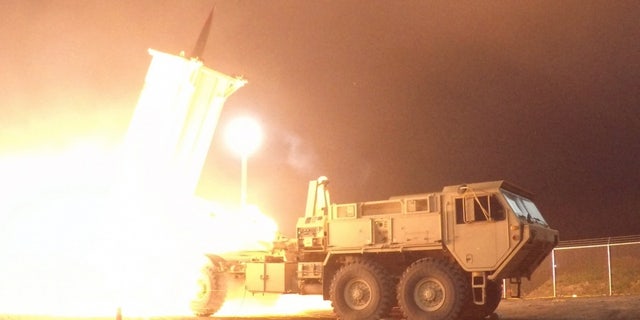 The Defense Department has a new target -- making 2018 a record year for selling U.S. arms to foreign militaries.
Deputy Defense Secretary Patrick M. Shanahan told reporters in December that a primary task for the year would be clearing up any red tape keeping the State Department from approving weapons sales to other nations by U.S. arms manufacturers.
According to a recent article by Military.com, Shanahan, a former Boeing executive, told defense reporters that the idea was to "make sure we're not standing on the air hose waiting for some paperwork or a signature."
Shanahan has held meetings with the Defense Department's top acquisitions chief, Ellen M. Lord, and Lt. Gen. Charles Hooper, director of the Defense Security Cooperation Agency, to start boosting those efforts.
He stressed to reporters that there would still be restrictions on whom the U.S. could sell to, and that the State Department would have to give final approval on all sales.
"It's not that there's just this giant hopper of foreign military sales; there's line of sight to what's important," Shanahan said.
The Pentagon will have a leading pitchman: President Donald Trump. The move is consistent with his "America First" economic theme, and during his first year in office, he repeatedly lauded U.S. weapons systems as superior to those made elsewhere.
Trump has even claimed to have already brokered deals of his own. Last May, during his trip to Saudi Arabia, the president said that he sealed a deal with that Middle Eastern country for nearly $110 billion in advanced military equipment sales and training. The package included Abrams tanks, combat ships, missile defense systems, radar and communications and cybersecurity tech like the Terminal High Altitude Area Defense — the THAAD system — for taking out incoming missiles.
Likewise, during a recent press conference with Norwegian Prime Minister Erna Solberg, Trump spoke of a deal with Norway. "We do a lot of business with Norway, and I know you just bought some additional military equipment in the form of F-35s and other things, and so I congratulate you," Trump said during the press conference. "We make the best in the world, and Norway is a great customer and a great ally, and a great friend."
The plan to eliminate obstacles for such sales comes after a year in which the government achieved a record $49.9 billion in foreign military sales.
It appears that other nations are, like the U.S., looking to increase the sales of their military weapons. For instance, Australia's government on Monday announced a strategy to create high-tech jobs and become one of the top 10 defense industry-exporting countries through arms sales to liked-minded nations, while also keeping those weapons from rogue regimes.
Australia will create a $3.8 billion fund to lend to exporters that banks are reluctant to finance, a central defense export office, and expanded roles for defense attaches in Australian embassies around the world.
The Associated Press contributed to this report.