Trump meeting with Malaysian prime minister under scrutiny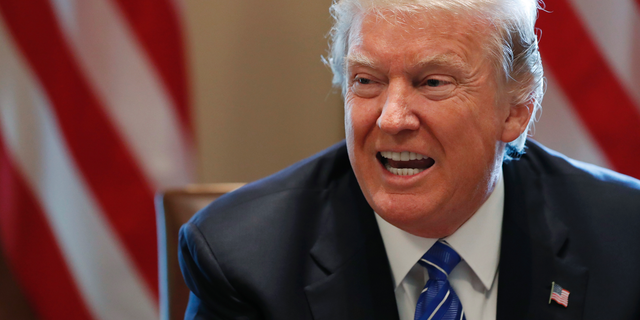 NEWYou can now listen to Fox News articles!
WASHINGTON – President Donald Trump praised Malaysian Prime Minister Najib Razak for his country's financial investments in U.S. companies during a meeting Tuesday at the White House and thanked him for helping to fight Islamic State militants.
Left unsaid by either leader: anything about the massive corruption scandal swirling around Najib's multibillion-dollar state fund.
Malaysia's government has said it found no criminal wrongdoing at the fund, called 1MDB and founded by Najib. But it has been at the center of investigations in the U.S. and several countries amid allegations of a global embezzlement and money-laundering scheme.
The U.S. Justice Department says people close to Najib stole billions of dollars, and the federal government is working to seize $1.7 billion it says was taken from the fund to buy assets in the U.S.
At their meeting, Trump and Najib instead focused on areas of agreement, such as economic development and counterterrorism measures when they spoke during a public appearance in the Cabinet room of the White House.
Flanked by Secretary of State Rex Tillerson and Vice President Mike Pence, the president crossed his arms and listened raptly as Najib described Malaysia's purchase of billions of dollars' worth of aircraft from Chicago-based Boeing. Trump said the deal is worth $10 billion to $20 billion.
Trump also pointed out that Malaysia is a "massive investor in the United States in terms of stocks and bonds."
"They have to be very happy because we are hitting new highs on almost a weekly basis," Trump said. "We're very proud of our stock market, what's happened since I became president."
On fighting ISIS, Najib said his country would do its part to "keep our part of the world safe." And he encouraged Trump to continue building partnerships in the region.
"The key is to support moderate and progressive Muslim regimes and governments around the world because that is the true face of Islam," Najib said.