Trump presents Medal of Honor to former Army staff sergeant who rescued entire squad in Iraq
President Trump presented the Medal of Honor on Tuesday to former Army Staff Sgt. David G. Bellavia for his actions as a squad leader in Fallujah, making him the first living Iraq War veteran to receive the recognition.
President Trump said Bellavia demonstrated "exceptional courage to protect his men and defend this nation."
During Operation Phantom Fury in 2004, Bellavia's platoon was pinned down while clearing a block of houses. Bellavia then exchanged his M16 rifle for an M249 Squad Automatic Weapon and entered the house where his squad was trapped to provide cover fire so the soldiers could exit safely, the White House said.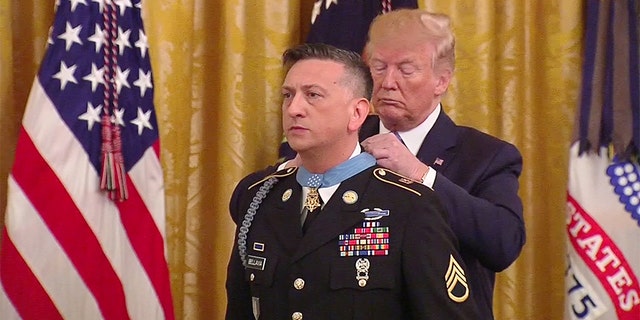 "A Bradley Fighting Vehicle arrived to help suppress the enemy, but it could not fire directly into the house," it added in a statement. "Then-Staff Sergeant Bellavia re-entered the house... and assaulted insurgents who were firing rocket-propelled grenades."
There, he engaged five different fighters, pursuing them through the house until the threat was neutralized.
IRAQ WAR HERO'S FAMILY ACCEPTS MEDAL OF HONOR FROM TRUMP
"That remarkable day, then-Staff Sergent Bellavia rescued an entire squad, cleared an insurgent strongpoint, and saved many members of his platoon from imminent threat," the White House said.
"This operation was the bloodiest battle of the Iraq War," Trump said at the ceremony on Tuesday. "For three days straight, David and his men kicked down doors, searched houses and destroyed enemy weapons never knowing where they would find a terrorist lurking next."
Trump said on the night of Bellavia's 29th birthday, which was the third night of the mission, "his squad was tasked with clearing 12 houses occupied by insurgents, [a] very dangerous operation."
When they arrived at the tenth house, the president said two men inside, who were hiding behind concrete barricades, opened fire.
Trump said the husband and father of three "leapt into the torrent of bullets and fired back at the enemy without even thinking."
"David took over," the president added.
"He provided suppressive fire while his men evacuated, rescuing his entire squad at the risk of his own life," Trump continued. "Only when his men were all out did David exit the building."
Trump said at that point, "the fighting was far from over."
He said militants on the roof fired at the squad. Bellavia then encountered an insurgent who was about to fire a rocket-propelled grenade at his squad, the president said. "David once again jumped into danger and killed him before he had a chance to launch that grenade."
TRUMP SAYS US SOCCER STAR MEGAN RAPINOE'S PROTEST DURING NATIONAL ANTHEM IS WRONG
Trump said the violence continued, but, "Bleeding and badly wounded, David single-handedly defeated the forces who attacked his unit and would have killed them all had it not been for the bravery of David."
Trump said 12 service members who were with Bellavia during the dangerous mission were in attendance at Tuesday's ceremony, as well as family members of the five service members who did not survive.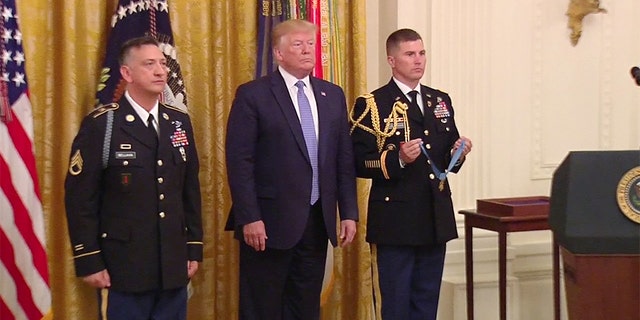 Speaking to reporters after the ceremony on Tuesday, Bellavia described receiving the Medal of Honor as "overwhelming."
He said Operation Phantom Fury "is impossible to think about."
Bellavia told reporters he was proud to be an Iraq War veteran and said it has been "an absolute honor to serve in the U.S. military."
Referring to becoming the first living Iraq War veteran to receive the Medal of Honor, he said, "This entire thing, I can't even comprehend it."
He added, "I want to thank my Army for giving me purpose, meaning and direction."
"As a boy he would listen to stories from his grandfather a World War II veteran and hero in his own right, who earned a Bronze star in the Normandy campaign," Trump said at the ceremony.
He added, "As David remembers, his grandfather's stories were always vivid with [a] source of pride."
He went on to say, "There was a nobility and purpose in the infantry and David saw that at a very young age. 'I wanted to be what my grandfather was,' David would often say. 'I wanted to be part of this noble adventure.'"
In 1999 Bellavia followed in his grandfather's footsteps and joined the United States Army Infantry, the president said.
Bellavia's 99-year-old grandfather watched the ceremony from Jamestown, N.Y.
"David, today we honor your extraordinary courage, we salute your selfless service and we thank you for carrying on the legacy of American valor that has always made out blessed nation the strongest and mightiest anywhere in the world," the president said at the ceremony.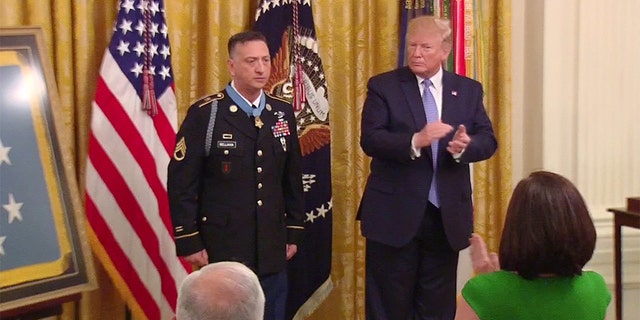 Bellavia was released from the Army in August 2005 after serving for six years and has been awarded the Silver Star, Bronze Star and the New York State Conspicuous Service Cross. He wrote about the battle in a 2007 book, "House to House: An Epic Memoir of War ."
Bellavia now hosts a radio talk show on WBEN in Buffalo, N.Y. He said on-air Friday that the experience of being chosen for the Medal of Honor is "very uncomfortable and awkward," but noted that he wants to represent Iraq War veterans, who have not had a living Medal of Honor recipient.
"When you go to basic training, you clean your weapons and you read the citations of these recipients and it's like they're superheroes," Bellavia said. "They're not real. ... I can't get my head around it. I still can't."
CLICK HERE TO GET THE FOX NEWS APP
The White House said Bellavia "continues to serve the military and veteran communities through a number of philanthropic organizations."
Bellavia lost a 2012 Republican primary to Rep. Chris Collins. His name is in play once against as Collins' potential successor as the representative -- whose trial on insider trading charges is pending -- decides whether he will run for reelection in 2020.
The Medal of Honor can trace its inception back to the Civil War.
Fox News' Tyler Olson and The Associated Press contributed to this report.