Tropical Storm Philippe approaches southern Florida, dumps rain on Cuba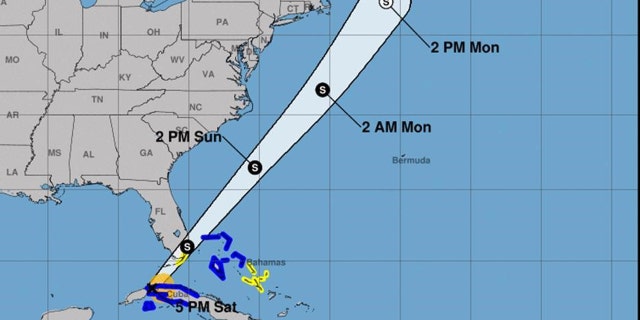 Tropical Storm Philippe is approached extreme southern Florida early Sunday as it continues to dump heavy rain on central Cuba and the Bahamas.
The National Hurricane Center said the poorly organized storm is moving east-northeast at 17 mph. A turn toward the northeast is expected, and a rapid motion toward the northeast is expected Sunday through Monday.
The center of Philippe is expected to move across the northwestern Bahamas Sunday morning.
Philippe's maximum sustained winds are near 45 mph, with higher gusts.
Some strengthening is forecast during the next 48 hours. However, Philippe is expected to become a post-tropical cyclone on Monday.
"It's nice to have something to talk about, but it won't cause widespread damage," said Fox News meteorologist Adam Klotz. "It's as minor as a named storm can be."
Klotz said Philippe would reached the northeastern United States by Monday or Tuesday and drop between four and five inches of rain.
The Associated Press contributed to this report.