Tropical Storm Cindy may bring 'life-threatening' flooding across Gulf Coast
NEWYou can now listen to Fox News articles!
Tropical Storm Cindy formed Tuesday in the Gulf of Mexico, and may bring "life-threatening flash flooding" across the central Gulf Coast, according to forecasters.
The National Weather Service said the storm is centered about 250 miles south of Morgan City, Louisiana and has top sustained winds of 45 mph. The storm is presently stationary in the Gulf, and has tropical-storm-force winds extending outward up to 205 miles from the center, according to the NWS.
Cindy, the third tropical storm of 2017, is expected to reach the Louisiana coast sometime late Wednesday and then move inland over western Louisiana and eastern Texas on Thursday.
The storm is expected to bring 6 to 9 inches of rain in areas, and up to 12 inches in some spots across Louisiana, Mississippi, Alabama and the Florida Panhandle through Thursday. The weather service said the rain "could cause
life-threatening flash flooding in these areas" in its latest advisory.
A tropical storm warning is now in effect from High Island on the upper Texas coast all the way to the mouth of the Pearl River at the state line of Louisiana and Mississippi. A tropical storm watch is in effect elsewhere on the Texas coast, from west of High Island to San Luis Pass.
TRACK THE STORM AT MYFOXHURRICANE
In Louisiana, local officials are taking steps to prepare for the potential of flooding from Cindy.
New Orleans Mayor Mitch Landrieu and several city and emergency officials told residents Tuesday to be prepared, FOX 8 New Orleans reported.
"There is no system that can take more than so much rainfall in a short period of time. That is where the danger is," Landrieu said. "So, if we get hit really, really hard for a prolonged period of time that's when the streets are going to start to flood."
Landrieu said the city's pumps will eventually catch up with the rain, but residents know what parts of their neighborhoods will see flooding during heavy rains.
The Louisiana National Guard dispatched high water vehicles and helicopters into flood-prone areas. The state said the Federal Emergency Management Agency was moving 125,000 meals and 200,000 liters of water into Louisiana.
Gov. John Bel Edwards said the advance notice of the storm gave officials time to put emergency plans in place. Louisiana was slammed with major flooding last summer from an unnamed storm that heavily damaged the Baton Rouge and Lafayette regions.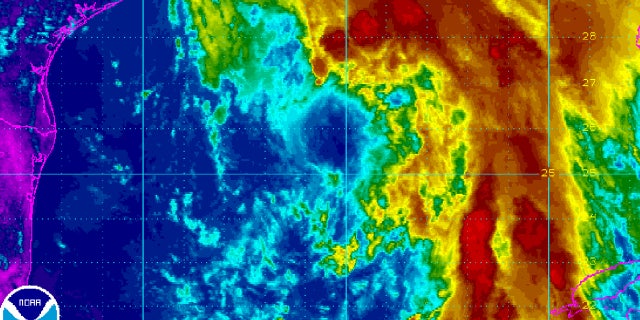 In Alabama, Governor Kay Ivey declared a statewide State of Emergency in anticipation of severe weather moving through.
"Hurricane season is underway and that means the potential for increased tropical activity along the Gulf Coast," Ivey said in a statement. "To ensure the state of Alabama is prepared, I have issued a State of Emergency effective today. This State of Emergency will guarantee state resources are on standby and are ready to assist impacted communities if necessary."
The Alabama National Guard is also being activated in preparation for the potential impact of the severe weather.
"Based on the forecast and prediction of the National Weather Service Offices for Alabama, residents need to start preparing for widespread rain totals of 4 to 8 inches with isolated areas of greater than 10 inches possible through Thursday," Alabama Emergency Management Agency Director Art Faulkner said in a press release. "Being prepared for potential flood conditions is critical, because flash flooding can be a very dangerous situation."
In Saraland, Alabama, residents near Bayou Sara spent Tuesday picking up free sandbags from the city's public works department before Cindy moves in, FOX 10 reported.
Public works crews told FOX 10 they served about 1,500 people in four hours. Many of those getting sandbags told FOX 10 issues they've had in the past.
"Last time it rained really, really bad, me and mom were going to the movies," Richard Metts told FOX 10. "We came back and it literally, my road was completely flooded: like the fire truck was going up and down the road getting the cars that were stuck in the water."
At the Escatawpa Hollow Campground in Alabama, near the Mississippi State line, owner Larry Godfrey told the Associated Press he was prepared for flooding that would add to the woes of a rainy spring.
"We've had so much rain, we haven't done any business in about eight weeks because of the rain," said Godfrey, whose campground typically hosts swimmers and boaters. He said the Escatawpa River, at 15 feet ), would typically be lower than 3 feet at this time of year.
Texas Gov. Greg Abbott ordered the State Operations Center to raise its readiness level as Cindy approached the Gulf Coast.
The center's readiness would be raised from level four/normal conditions to level three/increased readiness as of noon Wednesday. Also, Abbott has activated four Texas Task Force 1 boat squads and two Texas Military Department vehicles squads of five vehicles each to respond to any weather-related emergencies.
Abbott also put on standby the Emergency Medical Task Force of the Department of State health Services, as well as Texas Military Forces aircraft and shelter and feeding teams.
A voluntary evacuation notice has been issued for those with medical and other special needs on the Bolivar Peninsula, between Galveston and High Island, Texas. The National Weather Service advises that services may be limited for those on the peninsula around high tide from Wednesday afternoon through Thursday morning.
While the northern Gulf Coast braced for Cindy, the southern Caribbean region was dealing with the aftermath of Tropical Storm Bret, which unleashed heavy flooding, knocked out power and ripped off several roofs in some areas of Trinidad &Tobago. Bret had degenerated into a tropical wave by Tuesday afternoon.
All airports in Trinidad & Tobago reopened later Tuesday, though public schools and many businesses remain closed.
The Associated Press contributed to this report.