Tropical Storm Bill dumping up to 12 inches of rain on already waterlogged Texas coast
Tropical Storm Bill barreled into the Texas coast Tuesday, packing howling winds and promising to dump as much as 12 inches of rain on a region still recovering from recent flooding in a powerful punch that belies predictions of a mild hurricane season.
The storm sent waves crashing against the seawall on the barrier island city of Galveston before moving along the coast to Matagorda Island around 10 a.m. local time. Sustained winds of 60 mph were expected, and heavy rain could bring major flooding to a state experiencing one of its wettest springs on record. Austin was expected to get as much as 12 inches of rain, and other parts of Texas and Oklahoma anywhere from 4 to 8 inches.
Typically tropical storms gather power from the warm waters of the ocean and weaken over land, but meteorologist Victor Murphy of the National Weather Service in Fort Worth said it was plausible this one could regain strength. The Texas soil remains saturated from last month's historic rainfall, meaning the phenomenon scientists call the "brown ocean" effect is "still on the table," Murphy said.
Major flooding could occur along the Trinity River as it extends through East Texas, according to the weather service, with one portion northeast of Houston nearly 4 feet above flood stage Tuesday. The Guadalupe River north of Corpus Christi also is swollen as it ran more than 5 feet above flood stage.
"We're more vulnerable to flooding right now than usual because we just got through the wettest month on record," Texas state climatologist John Nielsen-Gammon said.
Personnel from the Federal Emergency Management Agency who were sent to Texas and Oklahoma after severe flooding over Memorial Day weekend will remain in the region to help prepare for Tropical Storm Bill and help clean up in its aftermath, White House spokesman Josh Earnest said Tuesday.
"While high winds and even tornadoes are possible, already wet grounds mean that even a moderate amount of rain will likely cause street flooding," warned Harris County Emergency Management. "Bayous and rivers could go out of banks quickly, creating a serious threat to life and property."
Rafael Lemaitre, spokesman for the Federal Emergency Management Agency, said FEMA has paid nearly $38 million this year in Texas flood insurance claims, with the vast majority associated with last month's deluge.
"As this tropical system develops, the state stands ready to provide support to communities as needed, and we urge Texans to closely monitor the changing weather conditions in their area and heed warnings from local and state officials," Texas Gov. Greg Abbott said. "Any additional rainfall will exacerbate already saturated grounds, which could quickly lead to dangerous flash flooding and extended river flooding."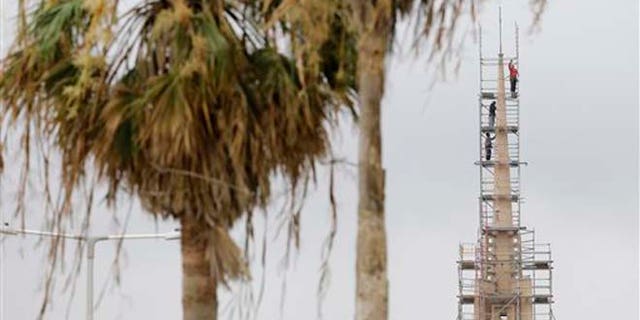 Late Monday, Galveston County officials evacuated the low-lying Bolivar Peninsula, where Hurricane Ike leveled most buildings seven years ago. School districts from Galveston to the Houston suburbs have canceled Tuesday's classes, although in most cases, only summer school was in session..
According to projections by the National Weather Service, parts of North Texas, Arkansas and Oklahoma could get up to 9 inches of rain over the next five days, and Missouri could get more than 7.
The National Oceanic and Atmospheric Administration has predicted a below-normal hurricane season, but heavy rains from storms like Bill could do plenty of damage, especially to an area reeling from recent floods.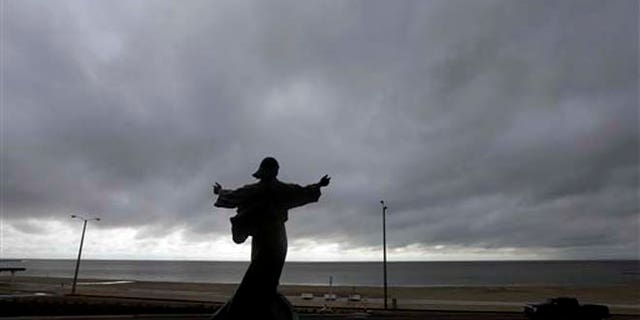 "A below-normal season doesn't mean we're off the hook," NOAA Administrator Kathryn Sullivan said late last month of the June 1 to Nov. 30 season. "As we've seen before, below-normal seasons can still produce catastrophic impacts to communities."
Sullivan referenced the 1992 hurricane season, when although only seven named storms formed, Hurricane Andrew became a Category 5 storm and destroyed south Florida.
An AccuWeather graphic published Tuesday appears to show a pattern of strong weather headed toward the U.S.
Residents have been asked to evacuate homes in low-lying coastal areas, schools in the Houston region are closed and people have been buying up bottled water and grocery staples ahead of Bill's arrival.
The Houston Independent School District is closing schools and offices as a precaution as Texas prepares for Tropical Storm Bill to make landfall.
District officials say heavy rain could make driving dangerous on Tuesday afternoon.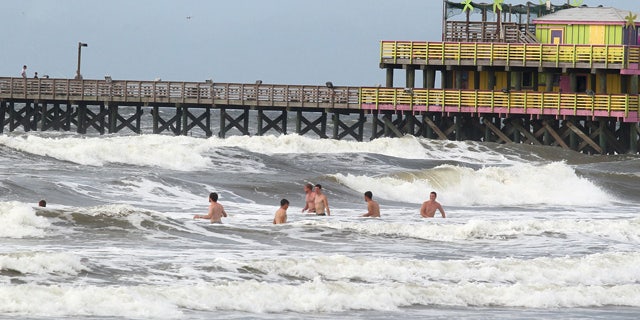 The National Weather Service says average rainfall for portions of Texas will be 3 to 6 inches, but there could be as much as 12 inches in some areas near Austin.
NOAA released a new graphic to highlight high-risk Gulf and Atlantic coastal areas during the hurricane season.
The Associated Press contributed to this report.