Trial begins for Oklahoma accused of killing family members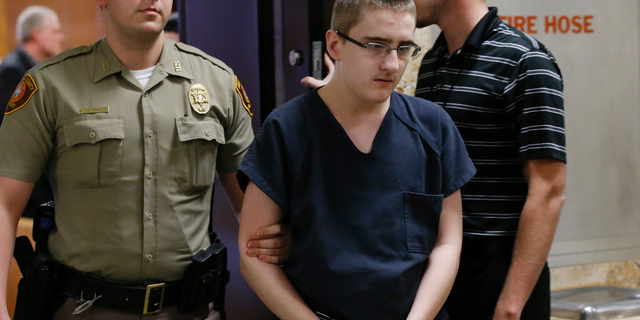 NEWYou can now listen to Fox News articles!
TULSA, Okla. – Jury selection began Monday for the younger of two brothers accused of fatally stabbing their parents and three siblings inside their Oklahoma home.
Prospective jurors filed into a Tulsa courtroom for the trial of Michael Bever, 19, who is charged with five counts of first-degree murder and one count of assault and battery with the intent to kill for his role in the July 2015 stabbings.
Bever was 16 when authorities say he and Robert Bever killed their parents, David and April Bever, two younger brothers and 5-year-old sister. Two other siblings survived the attack inside the house in Broken Arrow, a suburb of Tulsa.
Authorities said the brothers conspired to kill their family and that one brother kept plans for a "mass homicide" stored on a computer drive inside the home.
Robert Bever, who was 18 at the time of the killings and is now 21, pleaded guilty in 2016 and was sentenced to life in prison without parole. If found guilty, Michael Bever could be sentenced to life in prison with a chance for parole because he was a juvenile when the crimes occurred.
Prospective jurors for Michael Bever's trial were expected to complete a jury questionnaire and be excused until Tuesday, when they will be questioned by attorneys for possible service in the case.
Bever's attorneys say they plan to introduce evidence showing detectives botched the investigation and mishandled evidence.
Investigators testified at a preliminary hearing in 2016 that the brothers also plotted to load a car with guns and ammunition and randomly attack other locations, hoping to kill 10 people at each place.