Trader Joe's employee, who died in hostage situation, killed by LAPD gunfire, chief says
NEWYou can now listen to Fox News articles!
A bullet fired by the LAPD killed the Trader Joe's employee who died during a hostage situation during the weekend, Chief Michael Moore said Tuesday at a news conference.
Ballistics tests show that a Los Angeles police officer fired the shot that struck and killed Melyda Corado, 27, during a shootout with an alleged hostage taker at the Silver Lake supermarket Saturday, Moore said.
Gene Evin Atkins, 28, was arrested on suspicion of murder after Corado died during the more than two-hour hostage situation before Moore revealed it was officer gunfire that killed Corado.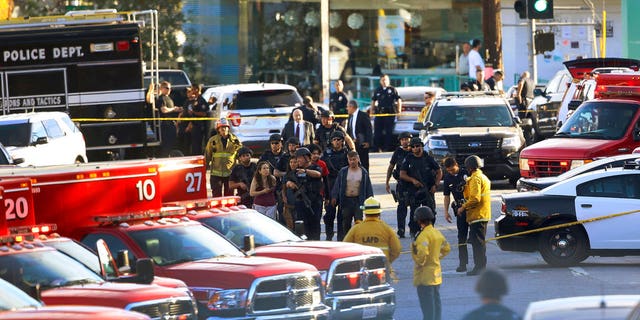 Atkins was being held on $2 million bail, the Los Angeles County Sheriff's Department said. Atkins allegedly shot his grandmother seven times and wounded another woman about two hours before the incident at the Trader Joe's.
After shooting the women, Atkins drove to the supermarket, crashed his vehicle into a pole and ran inside the store, officials said. He's accused of barricading himself inside and holding dozens of employees and customers hostage.
The standoff ended when Atkins agreed to handcuff himself and walked out the front door, surrounded by four of the hostages. He was injured when he was taken into custody, police said.
Atkins is facing several other charges, Moore said.
Police released dashcam and bodycam footage from the hostage situation. He said the names of the officers involved in the incident would be released later in the week.
Corado was a recently promoted store manager and was pronounced dead at the scene.
"They were just so devastated," KCAL9 employee Lynne Westafer said about the staff when they found out about Corado's death. "Everyone loved her. They're destroyed. She was in her late 20s. It's heartbreaking. I can't even tell you how upset they are."
Fox News' Katherine Lam and the Associated Press contributed to this report.