Toy plays Islamic prayer instead of jet sounds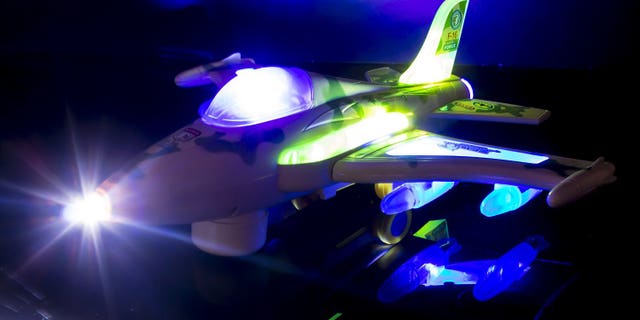 Unless the route to Mecca now winds through a Washington state living room, someone may have made a mistake.
A 3-year-old's Christmas gift from his uncle – a toy fighter jet – blared an Islamic prayer instead of traditional jet sounds, KING5 reported.
A local Muslim leader identified the slightly distorted, but clearly Arabic, voice.
"This is a prayer you're supposed to say when you're performing Hajj," Nadeem Israr, President of the Islamic Society of Whatcom County, told King5. Hajj is a traditional pilgrimage Muslims make to Mecca.
The company producing the toy, WolVol, blamed its manufacturer for the mix-up, according to KING5.
Customers who ordered the jet through Amazon.com have left mixed reviews. Some who bought the Bump & Go Action Electric F16 Military Fighter Jet Aircraft seemed satisfied with the purchase.
Other reviewers, however, noted the sound effect issue.
"Very loud Middle Eastern chanting and music! It's weird and scary!" one person wrote.
"Plane has bizarre Middle Eastern chanting, no jet noises," another wrote.
The uncle who bought the toy said he just wants a new plane.
"We put the batteries in and didn't get what we expected," Bjorn Thorpe, said. "I do respect other religions, but it's not the right situation to have it on a children's toy."