Touching WWI letters never seen before on display at Smithsonian
At the end of World War I, Gen. John J. Pershing – commander of the American Expeditionary Forces – penned a letter to every service member who served under him, expressing a heartfelt gratitude and deep respect for their sacrifice, courage and bravery.
Pershing begins the letter: "My fellow soldiers…" to those Americans for whose acts of valor played a part in winning what would become known as the "Great War."
"As an individual, your part in the World War has been an important one in the sum total of our achievements," he wrote. "Whether keeping lonely vigil in the trenches, or gallantly storming the enemy's stronghold; whether enduring monotonous drudgery at the rear, or sustaining the fighting line at the front, each has bravely and efficiently played his part."
100 YEARS AGO, WAR DECLARATION STARTED THE AMERICAN CENTURY
To commemorate the 100th anniversary of America's entry into WWI – April 6, 1917 – the Smithsonian National Postal Museum opened an exhibit on Thursday displaying Gen. Pershing's famous letter as well as never-before-seen letters from Pershing and everyday soldiers, offering an incredible insight into the American experience.
The exhibit is the collaboration of historian Andrew Carroll the Center of American War Letters at Chapman University and the Smithsonian. Carroll gave Fox News a video tour of the exhibit and showed us some of the previously unpublished correspondence from Pershing. That includes a letter about how, prior to the entry of the war, Pershing lost his wife and his three daughters in a house fire with his only his son surviving the tragedy – an insight that Carroll says "humanizes" the portrait of Pershing.
In another letter from a soldier writing home from his hospital bed to his wife, the soldier recounts meeting an ambulance driver named Ernest Hemingway – unaware at the time at just how famous his ambulance driver friend would become.
WORLD WAR I CENTENNIAL: AIR SHOWS, EXHIBITS AMONG HIGHLIGHTS AS AMERICA MARKS 100 YEARS SINCE ENTRY
The exhibit is a part of a much larger nationwide effort by the Chapman's War Letters campaign to save and preserve letters, from the American Revolution through the wars in Iraq and Afghanistan, to better understand the experiences and what these troops have endured.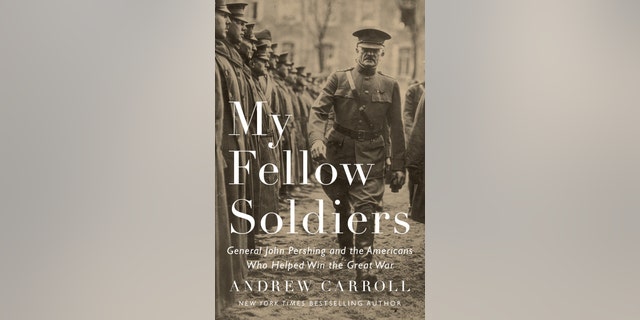 Carroll's book, "My Fellow Soldiers: General John Pershing and the Americans Who Helped Win the Great War," is out Thursday in conjunction with the centennial.
The exhibit at the Smithsonian's National Postal Museum in Washington, D.C. is open now through November 2018.