Tornadoes tear through homes in Minnesota, nursing home evacuated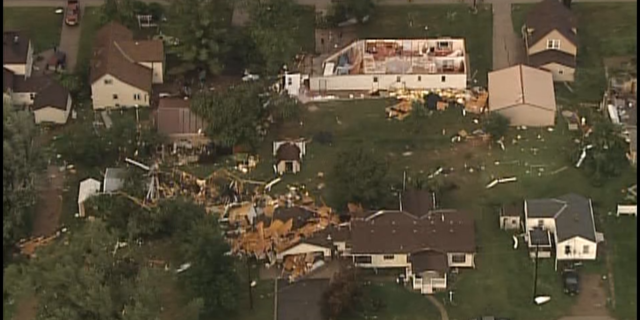 At least two tornadoes, torrential rain and powerful winds damaged homes, caused an evacuation of a nursing home and flooded highways in north-central Minnesota Tuesday.
Up to 20 homes were damaged by a tornado in Meeker County on Monday afternoon, authorities said. The communities of Litchfield and nearby Watkins were hit hard by the storms.
Fifty residents were removed from the Hilltop Health Care Center in Watkins after the storm ripped off part of the building's roof. The American Red Cross said it is assisting the evacuees.

The National Weather Service had warned of "catastrophic flooding" for parts of Minnesota Monday and early Tuesday.
In Litchfield, Mayor Keith Johnson says there's serious damage, but no one has been injured.
The storms generated a deluge of heavy rain causing the Crow Wing County Sheriff's Office to advise against travel late Monday because of flooding. Flash flooding also left drivers stranded in the St. Cloud area.
The National Weather Service reported 11 inches of rain fell in the east-central Minnesota city of Sturgeon Lake.
The National Weather Service said the Mississippi River in Aitkin County could crest at nearly 18 feet and would overrun the Aitkin sewage plant. Forecasts predict that the river should hit 15 feet by Tuesday morning.
A series of alerts were issued through Monday night in several areas in Minnesota. A "flash flood emergency" was issued at 9:40 p.m. after reports from local authorities that said "many state, county and local roads are underwater, and some road washouts have been reported in the Sturgeon Lake, Willow River, Denham, Bruno, Askov and Sandstone areas," according to the Duluth News Tribune.
Mike Stewart, a meteorologist with the National Weather Service in Duluth, told the paper that the storm front remained parked over central Minnesota for hours.
During the evening hours Monday, Moose Lake reported 4.7 inches of rain and had more one the way. The town saw similar floodwaters four years ago when the river and lake overflowed into homes, schools and other surrounding buildings.
"That's why we had a meeting tonight, right away, to plan for (Tuesday)" in case the waters continued to rise, Mayor Ted Shaw said told the Duluth News Tribune. "We wanted to be sure that we are as ready as we can be.
"Last time, it came up so fast that we weren't ready for it, and you just kind of scramble. Now we put together a plan, just to start prioritizing — what are the key things that we learned from the last flood, that we would use now on our key infrastructure items to save them before they flood?"
City officials in the region monitored the rain totals throughout the night.
The National Weather Service urged extreme caution to residents and drivers. The service said 6 inches of water is enough to take a person down and at least 12 inches could move a small vehicle.
The Associated Press contributed to this report.