Timeline of events in death of black woman found dead in Texas jail days after traffic stop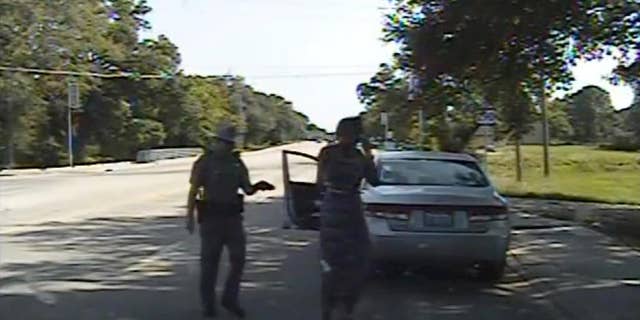 NEWYou can now listen to Fox News articles!
DALLAS – The family of Sandra Bland, the black woman found dead in a Texas jail cell days after a confrontation with a white state trooper during a traffic stop, filed a wrongful death lawsuit Tuesday against the officer and other officials. The 28-year-old woman's death comes after nearly a year of heightened national scrutiny of police and their dealings with black suspects, especially those who have been killed by officers or die in police custody. Here are some key events in the Bland case:
— July 10: Bland is pulled over in Prairie View, northwest of Houston, for changing lanes without signaling. The stop grows confrontational and trooper Brian Encinia orders her from the car before forcing her to the ground and taking her into custody on a charge of assaulting a public servant. Bland, who was in the process of moving to Texas from the Chicago area, is booked into the Waller County jail.
— July 13: A jailer finds her hanging in her cell. A preliminary autopsy determined she used a garbage bag to hang and asphyxiate herself.
— July 16: The Texas Department of Public Safety announces Encinia has been placed on administrative leave. Authorities determine he violated procedures guiding traffic stops and the department's courtesy policy.
— July 16: Bland's death results in the Texas Commission on Jail Standards citing the Waller County jail for failing to comply with state rules, including that guards failed to observe each inmate in-person at least once every hour.
— July 16: Waller County District Attorney Elton Mathis announces that the findings of a Texas Rangers investigation will be presented to grand jury. The FBI also is involved in the investigation.
— July 17: About 100 protesters questioning Bland's death march from the Waller County jail to the courthouse in Hempstead.
— July 21: DPS releases dash-cam video showing the confrontation between Encinia and Bland.
— July 21: Waller County sheriff's Capt. Brian Cantrell says Bland's death "was a tragic incident, not one of criminal intent or a criminal act."
— July 22: Waller County Sheriff Glenn Smith reveals that Bland told a guard during the booking process that she had previously tried to kill herself. Smith said two jailers who spoke with Bland insisted that she appeared fine when booked into the jail. She was not placed under suicide watch.
— July 22: Waller County officials release jail intake records for Bland.
— July 23: The Waller County district attorney's office reveals details of autopsy findings that indicate Bland hanged herself. The findings also show she had marijuana in her system and that about 30 cuts along Bland's wrist were likely self-inflicted some weeks before her arrest.
— July 24: Waller County officials release copy of autopsy report. Complete toxicology results remain pending.
— July 25: Funeral services for Bland are held in suburban Chicago.
— July 26: Hundreds gather in Prairie View for a vigil and march in Bland's memory.
— July 27: Officials announce a committee of outside attorneys will assist District Attorney Mathis in investigating Bland's death.
— July 28: Waller County authorities release several hours of footage showing Bland during her three days in jail, saying they want to dispel rumors that she was dead before arriving there.
— July 31: Department of Public Safety personnel records show Encinia was once cautioned about "unprofessional conduct" in a 2014 incident while he was still a probationary trooper.
— Aug. 4: Bland's family files a wrongful death lawsuit.