Ties between urban horsemen, Mennonites bolster old trade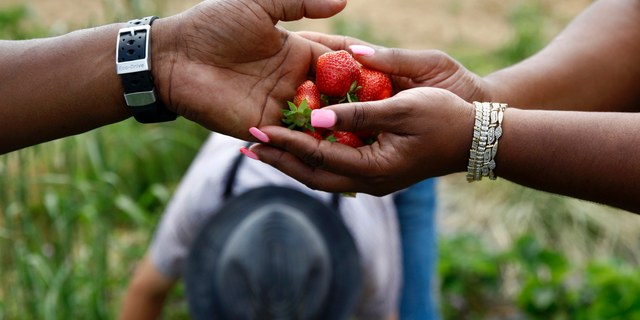 BALTIMORE – At an inner-city stable in one of the grittiest areas of Baltimore, a vanishing breed of urban horsemen prepares for its weekly visit to Pennsylvania Dutch country, where Mennonite farmers are helping to carry on a merchant tradition handed down through generations of African-American families.
On this recent morning, a few of the remaining practitioners of an obscure trade and folk culture known as arabbing are taking ponies to get shod in New Holland, Pennsylvania, where horse-drawn buggies clip-clop along rural blacktops and craftsmen still make wooden wagon wheels, carriages and leather harnesses.
It's an unlikely cross-cultural bond: a tight community of African-American horsemen in impoverished West Baltimore and rural Old Order Mennonites who shun most modern conveniences. Their worlds come together via a dependence on horses and a determination to live proudly on the margins of modern society.
"We rely on Mennonite know-how because we don't have the knowledge and the tools to do some of this stuff anymore. It's the way we found to keep this life going," said James "Fruit" Chase, the leader of a roughly 20-horse stable that's the strongest remnant of Baltimore's old arabbing tradition.
Selling fruit and vegetables from horse-drawn carts — which took root with black families in Baltimore after the Civil War — persists in this city not through nostalgia but through need. Baltimore's remaining arabbers — a name derived from an old term for peddlers of 19th century London and pronounced AY-rabbers — work out of three licensed stables tucked away in areas where healthful food is scarce among corner markets and greasy takeout joints.
In recent decades, the street peddlers managed to forge a sustaining link with Pennsylvania's tradition-bound Mennonites — generally less austere cousins to the Amish.
Daniel Van Allen, the head of Baltimore's Arabber Preservation Society, describes the little-known connection between the arabbers and Old Order Mennonites as "the meeting of two subcultures."
"They're not involved with the same big-budget, big-money economy that the modern people are," said Van Allen, adding that Baltimore is the last U.S. city to have functional horse-cart vending.
Chase, a charismatic man with an easy smile, has developed warm friendships with conservative Mennonites, young and old. What was once a culture clash for him has become a weekly visit full of common ground. Two Associated Press journalists accompanied Chase and two arabbing colleagues on a recent visit to an Old Order Mennonite family's 35-acre (14-hectare) farm, where water is pumped by hand and Scripture verses are read by candlelight.
The West Baltimore horseman — in a camouflage cap, jeans and sneakers — presented a striking contrast with patriarch Leon Hoover's family. The bearded farmer and his four boys dressed alike in straw hats and pants hitched up by suspenders. His wife and eldest daughter wore long dresses and bonnets.
"You can't really go a lot of places and not see people arguing, fighting and fussing. But up here, it's like a piece of heaven," said Chase, relaxing on the porch of the Hoovers' rambling farmhouse after picking strawberries with the Mennonite youngsters he's introduced to his own.
Hoover, whose family has farmed an electricity-free patch of New Holland for generations, said he valued Chase's friendship. His children break out into wide grins every time they see West Baltimore's arabbers coming.
"We trust James. We don't travel much and the children like to hear his stories from the city," Hoover said as he inspected tomato vines.
Pretty much every Monday, Chase also stops at a Mennonite auction that provides affordable horses, some for as little as $700. Mennonite men outside the auction did the hard work of shoeing the arabbers' ponies and filing their back teeth on a blazingly hot afternoon.
Like many old traditions, arabbing has greatly diminished in Baltimore due to development and urban renewal. At one time, stables were scattered across the city. But by the 1960s, their number had decreased to 25. Arabbers were pushed further toward the margins when the city's wholesale produce markets closed.
Now, Chase is one of a dozen people who still tenaciously cling to the trade, loading up bounties of wholesalers' produce on canopied red-and-yellow painted carts pulled by horses with bells and feather plumes. Harnesses are embellished with heart-shaped brass rivets.
Faithful customers, often elderly people, emerge on blocks marred by boarded-up properties to buy from arabbers' carts. It's the only option many citizens in Baltimore's poorest areas have to purchase fresh food that doesn't involve a lengthy bus trip or two.
Baltimore's arabber clans say they've got no choice but to put in the hard hours to sustain the life they love. They are "horse crazy," they say, and are deeply proud of family legacies stretching back over a century in some cases.
The highlight of their week? Traveling to Pennsylvania Dutch country.
"I let my city stress fade up there until I cross that Maryland line again," said Chase, as the sun rose over the Fremont Street stable decorated with colorful murals honoring his family's arabbing heritage.
___
Follow McFadden on Twitter: https://twitter.com/dmcfadd