Three arrested after Connecticut man is thrown 45 feet off bridge, police say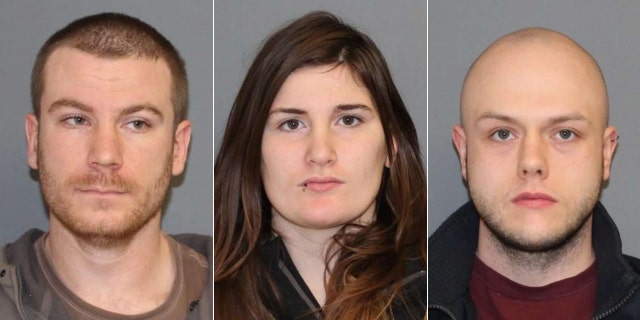 Two men and a woman were arrested Tuesday in connection with a Thanksgiving Day incident in which a Connecticut man was thrown 45 feet off a bridge, police said.
The unidentified victim survived the fall, but was still recovering from unspecified injuries, according to police.
The victim and his brother had tried to intervene when they saw suspect Gregory Rottjer arguing with his girlfriend, Jennifer Hannum, as the couple walked across the Derby-Shelton Bridge, the Connecticut Post reported.
The victim told police that he told Rottjer, 25, to "chill out." Cellphone video of the confrontation shows Rottjer going after the victim who can be seen backing up with his hands in the air, WFSB-TV reported.
Rottjer and his friend, Matthew Dorso, then began to argue with the victim and his brother. A short time later Rottjer then allegedly threw the victim off the bridge and into the icy water below, police said.
The suspects then fled the scene, but police tracked them down using a cell phone that one of them left behind.
Rottjer was charged with criminal attempt to commit murder, first-degree assault and reckless endangerment. Dorso was charged with third-degree assault and Hannum was charged with interfering with an officer, the Post reported.
They are set to appear in court on Dec. 22.
Rottjer was being held on $250,000 bail.