Thousands remain without power in southern states after powerful storms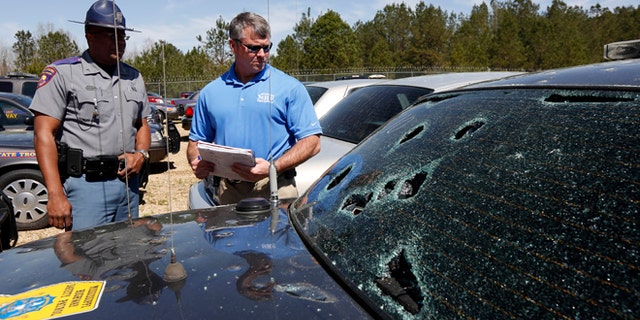 NEWYou can now listen to Fox News articles!
Several southern states are cleaning up after powerful winds and massive hail hammered the region.
About 69,000 Alabama Power customers and 13,500 Georgia Power customers remained without power Tuesday night, a day after storms with the force of hurricane winds toppled trees and utility lines.
"The damage is extensive, and extremely widespread… Some customers in areas where there is heavy or complicated damage may not get power until later this week," Alabama Power said on their website.
The company is bringing in workers from other states to help restore power, MyFoxAl.com reported. Crews from 10 states, Arkansas, Florida, Georgia, Kentucky, Louisiana, Mississippi, North Carolina, South Carolina, Tennessee and Texas, are helping Alabama Power workers. A total of 3,500 workers are expected to join in the restoration efforts.
Mississippi's insurance commissioner says the wind and hail storm that hit the state could result in 35,000 to 50,000 insurance claims. Insurance Commissioner Mike Chaney said Tuesday those numbers are based on information provided by insurers and include automotive and property damage claims. A lot of damage is in the Jackson area, where hail as big as baseballs pounded some spots Monday night.

The National Weather Service confirmed one tornado in Georgia and two in Alabama. Authorities also reported that a man was killed in Polk County, Ga., after a tree fell on his vehicle.
Click for more from MyFoxAl.com
The Associated Press contributed to this report