This Day in History: Jan. 31
The US enters the Space Age; the Keystone XL oil pipeline clears a major hurdle toward approval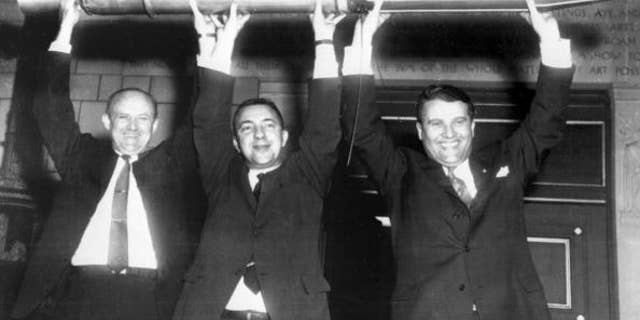 On this day, Jan. 31 …
1958: The U.S. enters the Space Age with its first successful launch of a satellite, Explorer 1, from Cape Canaveral, Fla.

Also on this day:
1863: During the Civil War, the First South Carolina Volunteers, an all-black Union Army regiment composed of former slaves, begins federal service at Beaufort, S.C.
1865: The U.S. House of Representatives joins the Senate in passing the 13th Amendment to the U.S. Constitution abolishing slavery, sending it to states for ratification. (The amendment would be adopted in December 1865.) 
1929: Revolutionary Leon Trotsky and his family are expelled from the Soviet Union.
1945: Pvt. Eddie Slovik, 24, becomes the first U.S. soldier since the Civil War to be executed for desertion as he is shot by an American firing squad in France.
1950: President Harry S. Truman announces he has ordered development of the hydrogen bomb.
1961: NASA launches Ham the Chimp aboard a Mercury-Redstone rocket from Cape Canaveral; Ham is recovered safely from the Atlantic Ocean following his 16 1/2-minute suborbital flight.
1971: Astronauts Alan Shepard, Edgar Mitchell and Stuart Roosa blast off aboard Apollo 14 on a mission to the moon.
1988: Super Bowl XXII: The Washington Redskins beat the Denver Broncos 42-10 at Jack Murphy Stadium in San Diego.
1990: McDonald's Corp. opens its first fast-food restaurant in Moscow.
1993: Super Bowl XXVII: The Dallas Cowboys beat the Buffalo Bills 52-17 at the Rose Bowl in Pasadena, Calif.
1999: Super Bowl XXXIII: The Denver Broncos beat the Atlanta Falcons 34-19 at Pro Player Stadium in Miami.
2005: Jury selection begins in Santa Maria, Calif., for Michael Jackson's child molestation trial.
2014: The long-delayed, controversial Keystone XL oil pipeline clears a major hurdle toward approval as the U.S. State Department reports no major environmental objections to the proposed $7 billion project.