Third man charged in suspected New York MS-13 machete murder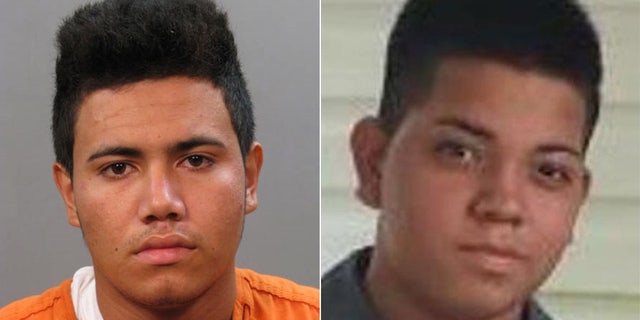 NEWYou can now listen to Fox News articles!
A third man has been charged in the killing of a New York teenager who was found hacked to death with a machete last year in what is suspected to have been an MS-13 attack.
Josue Figueroa-Velasquez, of Freeport, was set to be arraigned Wednesday on a second-degree murder charge in the death of 16-year-old Angel Soler, whose body was dug up in a wooded area in Nassau County in October after he was last seen leaving his home in Roosevelt on a bicycle months earlier, Nassau County Police said.
The 18-year-old's alleged accomplices, David Sosa-Guevara of Wyandanch and Victor Lopez – also from Roosevelt – are facing the same charges, police confirmed to Fox News. Both of those men were indicted in January, according to Newsday.
Soler's mother and sources close to the investigation believe the teen was killed by the violent MS-13 gang, with one source claiming that Sosa-Guevara revealed himself to be a member of the group during talks with police, Newsday reported.
Suyapa Soler also had said she brought her son to New York's Long Island to flee gang violence in Honduras, where MS-13 is active.
President Trump, who visited Long Island last week amid a crackdown on the gang by his administration, called MS-13 "ruthless" during a roundtable discussion on immigration.
"They're not people, these are animals and we have to be very, very tough," he added.