The Latest: Vigil set Monday evening for Colorado deputy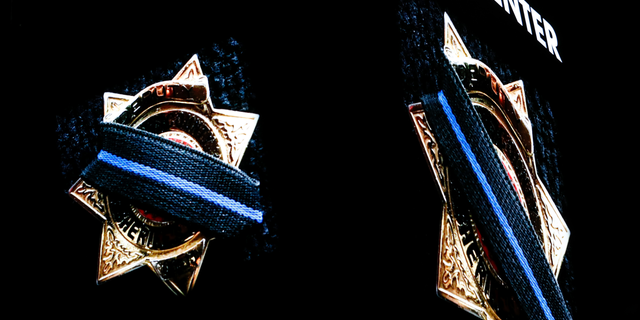 NEWYou can now listen to Fox News articles!
DENVER – The Latest on the fatal shooting of a sheriff's deputy in Colorado (all times local):
1:15 p.m.
A candlelight vigil is scheduled at 5 p.m. Monday for a Colorado sheriff's deputy who was gunned down after responding to a disturbance call in suburban Denver early Sunday.
The vigil for 29-year-old Douglas County Deputy Zackari Parrish will be held at Mission Hills Community Church in Littleton, Colorado — the church that Parrish attended with his wife and young daughters.
Pastor Craig Smith tells KDVR-TV that he's heard from people that Parrish loved his community and saw being police officer as a calling, as a way to serve his community.
The suspected gunman, 37-year-old Matthew Riehl, died in the shootout. Four other officers and two civilians also were injured.
___
11:20 a.m.
A man who was fatally shot after reportedly firing on five deputies in suburban Denver was the subject of a warning to University of Wyoming students two months ago.
Matthew Riehl was shot to death Sunday after shooting at the deputies, killing one.
The Nov. 6 email from Assistant College of Law Dean Lindsay Hoyt told students to notify campus police if they say Riehl or his vehicle near campus. The email included a photo of Riehl and his car.
UW spokesman Chad Baldwin said Monday that the school in Laramie, Wyoming, was investigating social media posts in which Riehl mentioned the College of Law and some of its employees. The posts did not contain any direct threats.
Baldwin says security on campus was increased for several days.
Riehl graduated from the College of Law in 2010.
___
1:30 a.m.
Authorities in suburban Denver are investigating what led a 37-year-old man to fire more than 100 rounds in his apartment on sheriff's deputies, killing one and injuring four others.
Matthew Riehl had previously posted videos online railing against the local sheriff and police.
The Douglas County Sheriff's Office says the man's roommate allowed deputies inside the apartment at a complex in Highlands Ranch.
Authorities say Riehl used his rifle to fatally shoot 29-year-old Zackari Parrish and wound four other law enforcement officers and two civilians.
More than 100 rounds were fired over the prolonged ordeal which ended after SWAT officers entered and shot and killed Riehl in a shootout.
Parrish leaves behind a wife and two children.
Gov. John Hickenlooper has ordered flags on all public buildings in Colorado lowered to half-staff until Tuesday evening in his honor.