The Latest: Victim remembered as dedicated family man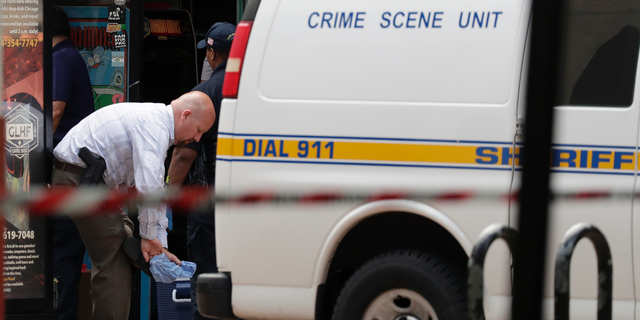 JACKSONVILLE, Fla. – The Latest on the mass shooting at a Florida video gaming tournament (all times local):
10:50 a.m.
The family of a West Virginia man killed in the shooting at video game tournament in Florida says he was a dedicated family man with "big dreams."
A statement posted on Facebook by relatives of 28-year-old Taylor Robertson of Giles, West Virginia, says he was an "extraordinary man" whose world revolved around his wife and their young son. The statement says Robertson's goal as a professional gamer "was always to better himself for his family."
Robertson was a gaming champion who competed in "Madden NFL" football franchise tournaments under the gamer tag Spotmeplzzz. He won the Madden Classic tournament in 2016.
Authorities say Robertson and 22-year-old Elijah Clayton of Woodland Hills, California, were killed Sunday when a fellow gamer opened fire at the "Madden" tournament in Jacksonville.
___
9:20 a.m.
Experts in Maryland say the video gaming gunman's history of mental illness apparently wouldn't have stopped him from buying guns before he killed two people and wounded 10 and then killed himself at a tournament in Florida.
Maryland law prevents someone from passing a background check to buy guns if they were either involuntarily committed for any period of time or voluntarily admitted to a psychiatric facility for at least 30 consecutive days. David Katz was hospitalized at least twice, but Daniel Webster, who directs the Johns Hopkins Center for Gun Policy and Research, says his treatment wasn't enough to disqualify him.
Maryland State troopers are responsible for investigating gun purchases in Katz's home state, but they're not talking for now to avoid interfering with the investigation in Jacksonville.
___
12:45 a.m.
Court records show that a gunman specifically targeted fellow gamers at a Florida tournament.
Jacksonville Sheriff Mike Williams told a news conference Monday that 24-year-old David Katz, of Baltimore, "walked past patrons who were in other parts of the business and focused his attention on the gamers."
Katz fatally shot himself after killing the two men and wounding 10 others Sunday inside a pizzeria and bar that were hosting a "Madden NFL 19" tournament.
Williams said that Katz carried two handguns, including one equipped with a laser sight, into the tournament venue but only fired one of them.
The sheriff's office identified the dead as 22-year-old Elijah Clayton of Woodland Hills, California, and 28-year-old Taylor Robertson of Giles, West Virginia.