The Latest: Van Dyke's partner testifies at murder trial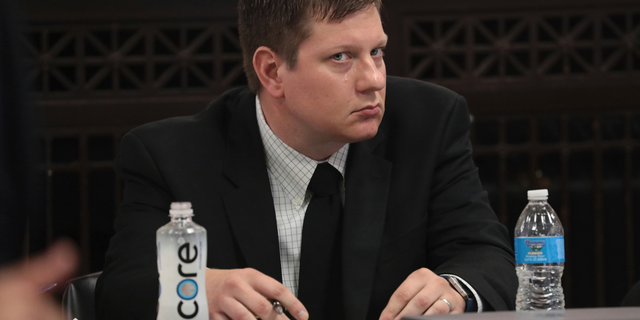 CHICAGO – The Latest on the trial of a Chicago police officer charge with murder in the shooting of black teenager Laquan McDonald (all times local):
11 a.m.
The second day of the trial of a white Chicago police officer charged with murder in the shooting death of black teenager Laquan McDonald is beginning the way the first day ended: with a police officer who was at the scene the night of the killing.
Former officer Joseph Walsh was Jason Van Dyke's police partner that night. Walsh testified Tuesday under a grant of immunity. Walsh is among three officers indicted on charges they conspired to cover up how the 2014 killing of McDonald happened.
Walsh says that after he and Van Dyke got out of their squad car to confront McDonald, he saw the 17-year-old raise his right arm and "swing that up to shoulder level ... in our direction." McDonald had a small knife in his right hand.
Video of the shooting does not confirm Walsh's account, but Walsh says it was taken from a different angle than his vantage point.
___
12:05 a.m.
The video of the Laquan McDonald shooting is so central to the murder trial of Chicago police officer Jason Van Dyke that jurors watched it at least five times during the initial day of testimony.
The first was just 15 minutes into opening statements Monday.
The footage from the October 2014 shooting shows the white officer open fire as the black teenager walks away from police with a small knife in one hand. McDonald was shot a total of 16 times.
The video appears to contradict the initial claims of Van Dyke and other officers that McDonald had lunged at them with a knife.
Defense attorneys said Van Dyke acted as he was trained.
Prosecutors stressed that no other officers opened fire. They are to continue presenting evidence on Tuesday.