The Latest: Trump urged to prod Erdogan on human rights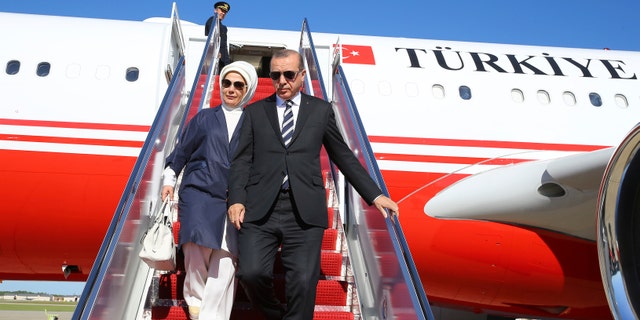 WASHINGTON – The Latest on President Trump's talks with Turkey's President Recep Tayyip Erdogan (all times local):
___
6:00 a.m.
Turkish opposition members and human rights defenders are urging President Donald Trump to raise the issue of Turkey's deteriorating human rights and democracy in talks with President Recep Tayyip Erdogan.
Erdogan is scheduled to meet with Trump at the White House for discussions expected to center on the friction between the two NATO allies over a U.S. decision to arm Syrian Kurdish fighters considered as terrorists by Turkey. They will also likely focus on a Turkish request for the extradition of a U.S.-based Muslim cleric Fethullah Gulen whom Turkey blames for last summer's failed coup.
"Turkey is under a state of emergency since (the failed coup), during which human rights have been trampled on," said Sezgin Tanrikulu, a legislator from Turkey's main opposition Republican People's Party, or CHP. "The media and press freedoms have been placed under government control. Torture and ill-treatment have increased."
___
3:40 a.m.
President Donald Trump will welcome Turkey's president to the White House Tuesday in a high-stakes meeting that could set the tone for how his administration deals with authoritarian leaders.
Trump and Turkish President Recep Tayyip Erdogan are expected to address the Syrian civil war, the refugee crisis and the fight against the Islamic State group when they hold their first face-to-face meeting.
The Trump administration has ramped up efforts to respond to the crisis in Syria, taking unprecedented action against Syrian President Bashar Assad's government over its use of chemical weapons against civilians.
But with Iran and Russia working to bolster Assad's government, the Trump administration is turning to regional allies, including Turkey, Saudi Arabia and Egypt for help as it crafts its Syria policy.