The Latest: Senate chaplain thanks God for McCain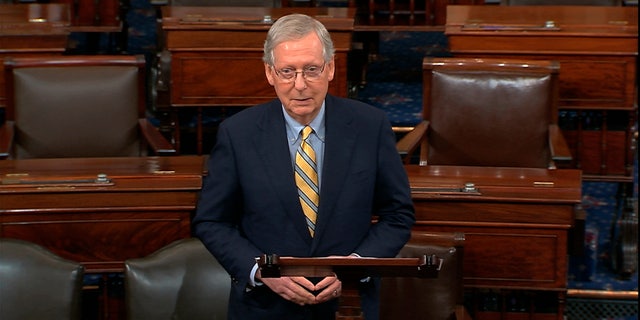 WASHINGTON – The Latest on services for Sen. John McCain and other related activities after his death (all times local):
5:05 p.m.
The Senate chaplain is thanking God "for the gift" of the late John McCain.
Chaplain Barry Black, a retired Navy rear admiral, is giving thanks for McCain's "profile in courage." He says in his opening prayer that McCain had a "sacrificial willingness to take the road less traveled, to rise above partisanship, to provide a profile in courage and to give his life in service."
He says McCain had an "awareness that humanity is wrapped in a blanket of mutuality" and is citing the senator's favorite novel in reminding, "so we should not ask, for whom the bell tolls."
The chaplain says McCain's "consequential, patriotic and heroic legacy" should challenge the Senate "to leave the world better than we found it."
___
4:45 p.m.
Senate Majority Leader Mitch McConnell paid tribute to John McCain by recalling their own legislative battles while echoing the late senator's belief that there's more that unites than divides Americans.
Speaking from the Senate floor, McConnell says that while McCain served the state of Arizona in Congress, "he was America's hero all along."
He spoke near McCain's desk in the Senate, which has been draped in black and adorned with white roses in his honor.
McConnell and McCain tangled over several issues, including McCain's championing of campaign finance reform and McConnell's attempt to repeal the Affordable Care Act, which failed on McCain's surprise "no" vote. McConnell says serving with McCain "was never a dull affair."
McCain will lie in state in the Capitol Rotunda on Friday.
___
3:55 p.m.
Memorial services for Sen. John McCain will include tributes from his children and fellow politicians.
Rick Davis, McCain's former presidential campaign manager, says U.S. Sen. Jeff Flake, former U.S. Sen. John Kyl and Arizona Gov. Doug Ducey will be among those who speak at services in Phoenix.
Former Vice President Joe Biden will pay tribute at a Thursday service at North Phoenix Baptist Church. The service also will include choir performances and a bagpiper.
Formers Presidents George W. Bush and Barack Obama will speak at a Saturday memorial service at Washington National Cathedral. The program also includes a tribute from McCain's daughter Meghan, plus a performance of "Danny Boy" by opera star Renée Fleming.
Public viewings will be held at the Arizona Capitol on Wednesday and the U.S. Capitol on Friday.
___
3:20 p.m.
The Senate has draped John McCain's desk in black fabric and placed a vase of white roses on top.
McCain died Saturday at age 81 from an aggressive form of brain cancer. Monday was the Senate's first day back in session since his death, though McCain had not been back to Washington since December.
He served in the Senate for more than three decades, most recently as chairman of the powerful Senate Armed Services Committee.
The black fabric stands roughly where McCain last year delivered a desk-pounding speech urging the Senate to return to a bipartisan and more civil way of doing business.
The chamber also is where McCain delivered a dramatic thumbs-down that sank the GOP's effort to repeal former President Barack Obama's health care law.
___
2:50 p.m.
True to his reputation for "straight talk," John McCain encourages Americans not to "despair of our present difficulties" in a farewell letter that takes veiled shots at President Donald Trump.
In his final message, read aloud in Arizona, the late senator says the United States is weakened "when we confuse our patriotism with tribal rivalries" and "when we hide behind walls rather than tear them down." Trump has made building a wall on the southern border one of his signature issues.
Trump feuded with McCain and has refused to talk about him since his death on Saturday.
The president tweeted his condolences to McCain's family but made no reference to the Arizona senator. Flags at the White House were lowered to half-staff for McCain on Sunday but are now flying at full-staff.
___
2:15 p.m.
A final letter from Sen. John McCain expressed his deep gratitude and love of country, and offered words of wisdom to his fellow Americans.
Rick Davis, former presidential campaign manager for McCain who is serving as a family spokesman, read the farewell message at a press briefing in Phoenix.
In the statement, McCain reflected on the privilege of serving his country and said he tried to do so honorably. He also touched on today's politics.
"Do not despair of our present difficulties but believe always in the promise and greatness of America, because nothing is inevitable here," McCain wrote. "Americans never quit. We never surrender. We never hide from history. We make history."
McCain will lie in state at the Arizona State Capitol and at the U.S. Capitol in Washington, D.C. before his burial on Sunday at the U.S. Naval Academy.
___
9:10 a.m.
The flags at the White House, which were lowered over the weekend to mark the death of Sen. John McCain, are back at full-staff.
The flags at the U.S. Capitol, meanwhile, remained at half-staff on Monday to honor the Arizona Republican, who died Saturday of brain cancer.
President Donald Trump offered his condolences on Twitter to McCain's family but hasn't issued a presidential proclamation with an order lowering the flags. The two had a long-running feud.
U.S. Flag Code states that flags be lowered "on the day of death and the following day for a Member of Congress."
After Democratic Sen. Ted Kennedy of Massachusetts died in 2009, President Barack Obama ordered flags at the White House be flown at half-staff for five days.
The White House didn't immediately respond to questions Monday.
___
7:25 a.m.
U.S. Sen. John McCain is being remembered in Romania for a letter he sent to the government urging the East European nation not to backtrack on fighting corruption.
The Aug. 2 letter sent by the Arizona Republican and Democratic Sen. Chris Murphy of Connecticut to Premier Viorica Dancila was republished Monday after McCain's death Saturday of brain cancer.
The senators urged the government "not to retreat in the important fight against corruption."
They said they regretted that the former chief anti-corruption prosecutor Laura Codruta Kovesi had been dismissed in July amid government claims of mismanagement.
The letter said recent judicial reforms and proposed legislation to decriminalize certain corruption offenses "raises troubling questions," about the government's commitment to "hold high-level officials accountable. "
___
4:45 a.m.
People in Vietnam are paying their respects to U.S. Sen. John McCain who was held as prisoner of war in Vietnam and later was instrumental in bringing the wartime foes together.
McCain died of brain cancer Saturday in his home state of Arizona, which he had served over six terms in the U.S. Senate.
People paid tribute to McCain at the U.S Embassy in Hanoi on Monday and also at the monument built where he parachuted from his Navy Skyhawk dive bomber in October 1967 and was taken prisoner of war. He was held more than five years at the infamous "Hanoi Hilton" prison.
McCain and former Sen. John Kerry played an important role in the bilateral normalization of relations in 1995.
___
12:30 a.m.
Sen. John McCain's service to his country began more than six decades ago at the U.S. Naval Academy at Annapolis and will end there in a cemetery overlooking Maryland's Severn River.
A private burial service next Sunday will conclude nearly a week of events honoring the Navy aviator, prisoner of war, congressman, longtime senator and presidential contender. The Arizona Republican died of brain cancer Saturday at 81 at his ranch near Sedona.
Plans taking shape called for McCain to lie in state Wednesday in the Arizona State Capitol on what would have been his 82nd birthday. Services will be held at a Phoenix church, and in Washington and Maryland.
In Washington, McCain will lie in state Friday in the Capitol Rotunda with a formal ceremony and time for the public to pay respects. On Saturday, former Presidents George W. Bush and Barack Obama are expected to speak at a service at Washington National Cathedral.